Cafe Coffee Day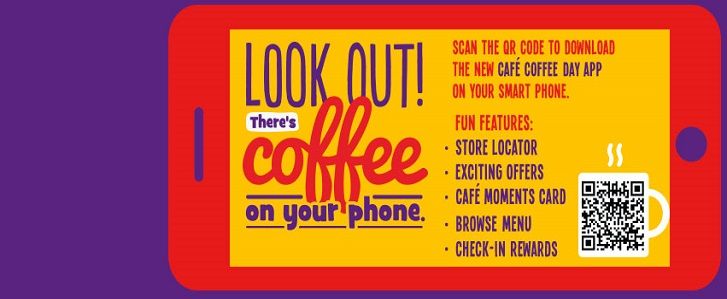 • Cafe Coffee Day, part of India's largest coffee conglomerate, the Amalgamated Bean Coffee Trading Company (ABCTC) is a estate to retail coffee chain giant in India.
• The concept of cafe was brought to India by Cafe Coffee day when it started its first cafe in 1996 on Brigade Road in Bangalore. Now it has over 1,320 Cafes across India and in International cities like Vienna, Prague etc..
• It has over 10,000 acres of coffee estates spread across Chickmagalur, in Karnataka. There are 11,000 small growers who are associated with ABCTC.
• Cafe Coffee day has a presence in every segment of coffee growing and selling: retails coffee powder, vending express coffee, Cafes in urban area, on highways with food, high end lounge bars, airport outlets and exports coffee powder around the world.
• ABCTC is the largest exporter of coffee from India, exports across USA, Europe and Japan.
• Coffee Day Holdings - promoted by V G Siddharta is the holding firm for Cafe Coffee Day, Coffee Day Hotels and Resorts, retail broking firm Way2Wealth, venture capital firm Global Technology Ventures and Tanglin Development, the real estate arm.
• Series A funding: $ 10 million in 2006 by Sequoia Capital
• Series B Funding: $ 10 million in 2007 by Sequoia Capital
• Series C Funding: $ 80 million from Darby Private Equity, International Finance Corp and Deutsche Group
• Series D Funding (25% stake): $ 200 million
• $ 75 million from New Silk Route,
• $ 75 Million by KKR
• $ 50 million by stanChart PE
• Exits:
- Sequoia Capital is expected to exit with 16-18% returns
- Cafe Coffee day is expected to raise a debt of Rs.125 crores to buy back the stake from Sequoia Capital
---
Total funding: $ 300 Million
Employees1001-5000
DescriptionRetail coffee chain
More Information
Key People
• V G Siddharth: Founder and CEO
Products / Servicescoffee, snacks,
Phone Number080-40012345
Company Office Address
Cafe Coffee Day
Fifth Floor, #23 / 2,
Vittal Mallya Road, Bangalore-01
Web Address: www.cafecoffeeday.com