Capillary Technologies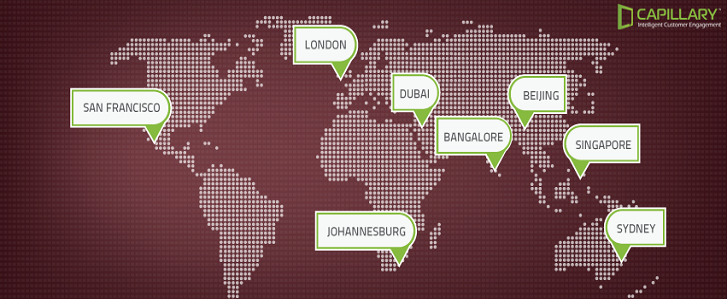 • Capillary Technologies offers CRM (Customer Relationship Management) which envelops all facets of interaction that a brand has with its customers – at all touch points. It manages the entire customer lifecycle - acquisition, service and maintenance – while optimizing revenue, profitability and customer loyalty.
• Capillary Technologies has developed Intelligent Customer Engagement™ Suite that can drill deep into the data to get a clear view of what's happening and what needs to be done, at reasonable cost.
• Capillary Technologies provide 360° views of your customers using data captured across every channel. Aggregate information ranging from transaction histories and product preferences to expected future purchase dates and identify cross- and up-selling opportunities, all in real time.
• Transfer and integrate data and KPIs among Capillary's CRM, Business Intelligence and Marketing Automation platforms.
• Multichannel Collaboration with Customers: Gather customer information from every channel. Collect customer data, manage sales, promote loyalty registrations and redemptions across mobile, social and digital channels to drive customers into your stores and provide flawless shopping experiences.
• The company uses real-time data capture and analytics to provide clienteling, loyalty and social CRM solutions for around 140 retailers, including Raymond, Pizza Hut, Puma, United Colors of Benetton, Peter England and Nike, in India, South East Asia, Greater China, Middle East, South Africa, United Kingdom and the United States.
• Incubated at IIT Khargpur: Rs. 15 Lakhs Soft loan (repaid)
• Won Qprize: $ 100,000 from Qualcomm Ventures in 2009
• Series A funding: $ 15.5 Million from Norwest Venture Partners and Sequoia Capital and Qualcomm Ventures in September 2012
• Series B Funding: $ 4.5 Million from American Express Venture
---
Total Funding:  $ 20.1 Million
Employees201-500
DescriptionIntelligent Customer Engagement
Milestones
• Capillary Technologies is ranked among 100 (global and Asia) Red hering Companies
• It was ranked among the NASSCOM Emerege 50 Companies in 2011 and 2012
• Forbes has selected Capillary Technologies among 12 gems
• Capillary Technolgies was rated as COOL VENDOR in 2013 by Gartner
More Information
Key People
• Aneesh Reddy: Co-Founder and CEO
• Krishna Mehra; Co-founder & President – Americas
• Ajay Modani:Co-founder & COO
Products / ServicesCRM, Customer Relationship Management
Phone Number+91 80 49074600
Company Office Address
31/9, Krimson Square, 4th Floor
Roopena Agrahara,
Hosur Main Road
Bangalore - 560068
Web Address: capillarytech.com