ConnectM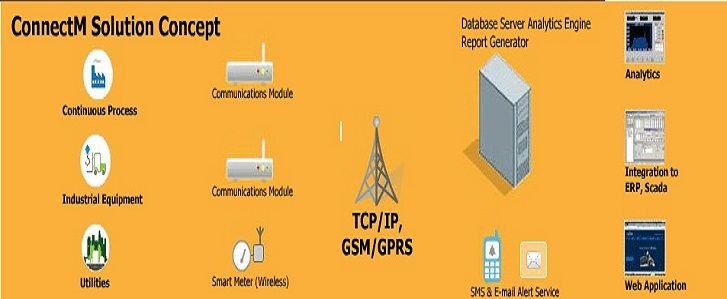 •ConnectM, a brainchild of Sasken and IDG Ventures provides Machine 2 Machine (M2M) enabled solutions to global markets.
•ConnectM is a niche player in the growing remote diagnostic and monitoring market and is well positioned to lead in this space. ConnectM will enable clients to benefit from increased availability through remote after market applications enabling predictive maintenance powered by M2M."
•ConnectM focuses on Telecom, Utilities, Industrial, Construction, IT/ITES Enterprises and Transportation market segments. ConnectM's solutions are powered by cutting edge M2M technology, and are designed to make significant, sustained and measurable business impact.
•Within transportation, ConnectM addresses the aerospace, automobiles and railroad markets. ConnectM's service offerings range from fleet management, telematics, remote asset management, energy usage optimization, pilferages & theft tracking, to after market services and remote monitoring.
••ConnectM's offerings are:
–Remote Asset Management-Telecom Tower
–Automated Meter Reading (e-Metering)
–Energy Technology Solutions
–Fleet Management Solution
•Series A funding: $ 6 Million by IDG Ventures and Sasken
Employees51-200
DescriptionRemote diagnostic and monitoring market
More Information
Key People
Murali Ramalingam, Managing Director
•Murali has been with ConnectM since November 2008.
•Prior to ConnectM, Murali was with Agilent Technologies, as the India Country Manager, heading the Operational Support Division focused on Telecommunication.
Prior to Agilent he was with Tata Consultancy Services heading their Sales & Marketing team for the Telecom vertical.
•Murali has worked with Fortune 500 companies like IBM, Xerox and Toshiba, in Leadership positions, with P& L responsibility between 1978 to 1996
•Murali completed his post graduate from Sydenham College, Mumbai and his M.B.A. from St. Joseph's College , Bangalore.
Girish Subramanya, Head – Delivery
•Girish came on board ConnectM in November 2007. Before joining ConnectM, Girish was with Core Objects, India Pvt. Ltd. as the development lead.
• Prior to CoreObjects he was with Integral Software India Pvt. Ltd., where again he worked on a number of projects. He has also worked at i2 technologies where he was involved in SRM and Content Management Solutions development.
•Girish brings with him 12+ years of overall experience in software industry including 8 years of focused experience in software product development.
•He holds a Master of Computer Applications from DOEACC, New Delhi.
Sriram Chidambaram, Head - Sales and Marketing
•Sriram Chidambaram is currently the Head of Sales & Marketing at ConnectM.
•Prior to joining ConnectM, Sriram Chidambaram worked for different multinational companies such as Philips Electronics, Cadence Design Systems and Parametric Technology Corporation.
•For the last 14 years, Sriram Chidambaram has handled high value sales of technology products and services.
•Sriram has an engineering degree from Birla Institute of Technology and Science, Pilani, India and a management degree from Indian Institute of Management, Bangalore.
Products / ServicesRemote diagnostic and monitoring market, machine to machine enabled solutions
Phone Number+91 80 67683412
Company Office Address
ConnectM Technology Solutions Pvt Ltd
#562/640, Block A, Ground Floor
Janardhana Towers, Bilekahalli
Bannerghatta Road
Bangalore – 560 076
Web Address: www.connectm.com