Druva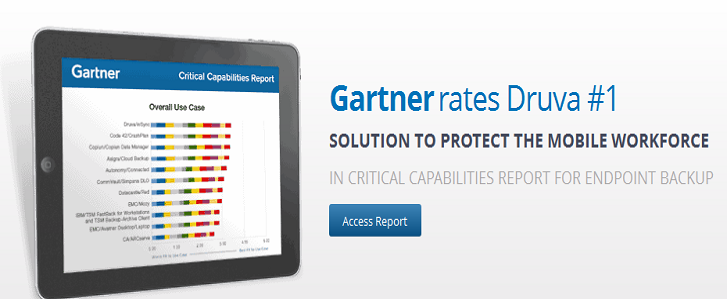 •Druva is a pioneer in secure, non-intrusive endpoint protection and availability solutions for the enterprise.
•inSync provides simple, secure, non-intrusive backup for enterprise users of laptops and mobile devices such as smartphones and tablets.
•Its unique app-aware global source-based deduplication technology delivers 10 times faster backups and 90 percent reduction in bandwidth and storage.
•Over 1,100 customers depend on inSync for endpoint data protection, access and availability. Druva protects 600,000 endpoints across 42 countries.
Employees51-200
Descriptiondata loss prevention and endpoint backup
More Information
Key People
Jaspreet Singh, Co-Founder and CEO
Ramani Kothandaraman, Co-Founder and COO
Milind Borate, Co-Founder and CTO
Products / ServicesEndpoint backup, data protection, data loss prevention
Phone Number+91 (0)20 672 63 300
Company Office Address
•Druva Inc (US Headquarters)
650 Castro St, Suite 250
Mountain View, CA 94041, USA
Phone number: +1 650-241-3501
•Druva Software
Muttha Chambers II, Level VI
Senepati Bapat Marg
Pune, India – 411016
Web Address: http://www.druva.com/
Company Achievements
Lead411 – 2013 Hot Company: Druva named Hot Company of Silicon Valley by Lead411.
Best in Biz Awards 2012: Enterprise Product of the Year Silver Winner.
CODiE Awards 2012 Winner: Best International Data Protection Solution: Druva inSync Cloud.
Gartner Cool Vendor 2012: Druva named Cool Vendor by Gartner.