Eris Life Sciences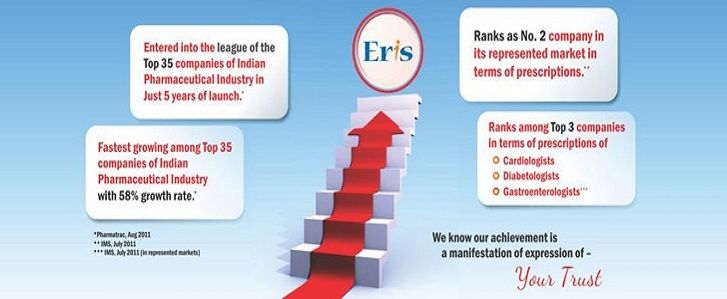 • Eris Lifesciences was established in 2007 with its corporate office at Ahmedabad has presence throughout India. Eris is engaged in manufacturing, marketing and selling of branded generics across the country.
• Our divisions focus on Cardiology, Diabetology, Endocrinology, Gastroenterology, ENT, Orthopedics, Pediatrics and Gynecology segments.
• Our network consists of 22 Sales Depots and over 900 stockists which enables us to achieve presence across India for distribution of our products.
• The company hasELPL deals with 13 manufacturers to outsource the contracts of manufacturing of the products on a regular basis. The company has over 70 registered brand names.
• Series A funding: ChrysCapital invested in September 2011
• The Company has registered revenues of $ 42 Million in FY11.
Employees1001-2000
Descriptionfastest growing Super Specialty focused pharmaceutical company
Milestones
• Youngest company to feature amongst Top 35 companies in the Indian Branded Formulations Market.
• Eris acquired manufacturing facility of Sozin Florapharma at Sirmour in Himachal Pradesh in August 2010.
• Awarded Competitive Strategy Leadership award for 2013 by Frost & Sullivan.
More Information
Products / Servicesgeneric drugs
Phone Number91-79-30451111
Company Office Address
Eris Lifesciences Pvt. Ltd.
7th Floor, Commerce House IV,
Besides Shell Petrol Pump,
100 Feet Road, Prahladnagar,
Ahmedabad – 380015
Web Address: http://www.eris.co.in