Flipkart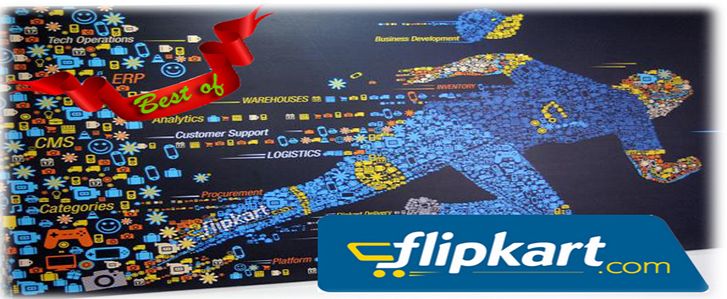 • Founded by Sachin Bansal and Binny Bansal in 2007 , the company started off by selling books online.
• Today, they are present across 12 categories including movies, music, games, mobiles, cameras, computers, healthcare and personal products, home appliances and electronics. The company intends to new categories except groceries and automobiles and expand the current categories.
• With over 11.5 million book titles, 12 different categories, more than 2 million registered users and sale of 30,000 items a day, Flipkart is one of the leading e-commerce players in the country. Books account for 65% of the company's sales volume and 40% of the revenue.
• Flipkart was one of the first e-tailer company to introduce new services like Cash on Delivery, a 30-day replacement policy, EMI options, free shipping, which attracted many online sceptics to buy things online.
• Flipkart has invested extensively in technology, supply chain, logistics, customer support and marketing to scale up the business. • They have a dedicated Flipkart delivery team that works round the clock to personally make sure packages reach on time. For now they're present in 27 cities, but with plans to expand to many more cities.
• Series A: $ 10 million from Accel Partners and Tiger Global in 2010
• Series B: $ 20 million from Tiger Global in 2011
• Series C : $ 150 million from Naspers and Accel Partners and Tiger Global Management LLc in August 2012
• Series D (1st Tranche): $ 200 million from Naspers, Accel Partners, Tiger Global and Iconiq Capital in June 2013
• Series E (2nd Tranche): $ 160 million from Sofina (Belgium) Naspers, US-based Morgan Stanley Investment Management, Dragoneer Investment Group and Vulcan Capital (founded by Microsoft co-founder Paul Allen), and Tiger Global.
• Series F funding: $ 210 Million from DST Global and existing investors Tiger Global, Naspers and Iconiq Capital in May 2014.
---
Total Funding: $ 750 Million
Employees1001-5000
DescriptionFlipkart is an online shopping website
Milestones
• In December 2010, Flipkart acquired WeRead, a social book discovery tool from Lulu, a US-based on-demand publishing firm. The stated goal was to give Flipkart a social recommendation platform for buyers to make informed decisions based on recommendations from people within their social network.
• In terms of revenue, the company has grown from Rs. 50 crores in 2011 to Rs. 500 crores in 2012 and plans to record a revenue of $1 billion (Rs 5,000 crore) in 2015.
• The company has launched own payment gateway PayZippy.
• The company is valued at $ 1 Billion
• Flipkart acquired Myntra in May 2014.
More Information
Key People
• Sachin Bansal, CEO and Co-founder
• Binny Bansal, COO and Co-founder
Products / ServicesMovies, music, games, mobiles, cameras, computers, healthcare and personal products, home appliances and electronics – and still counting!
Phone Number(080) 4352 6600
Company Office Address
Flipkart Internet Private Limited,
Ozone Manay Tech Park,
#56/18 & 55/09, 7th Floor,
Garvebhavipalya, Hosur Road,
Bangalore - 560068Karnataka, India.
Website: www.flipkart.com
Company Achievements
Flipkart's reported sales were 4 Crores (40 Million) in FY 2008-09, 20 Crores in FY 2009-10 and 75 Crores for FY 2010-11. On average, Flipkart sells nearly 10 products per minute and is aiming at generating a revenue of 1 billion US$ by 2015.