MARG Karaikal Port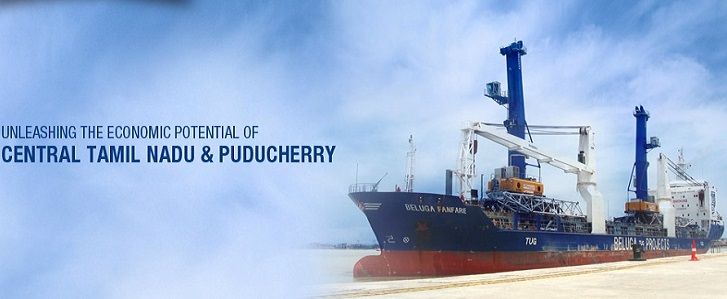 • Karaikal Port Private Ltd (KPPL) is a subsidiary of MARG Ltd, a leading infrastructure and real estate developer along the Chennai IT corridor.
• MARG Karaikal Port is envisaged to have a total of 9 berths capable of handling 47 MMTPA by 2018.
• The port is envisioned to be developed in 3 phases with the final phase getting operational in 2017. Phase - I of development, which was completed in April 2009, comprises two Panamax size general cargo berths.
• The Port hosts various other infrastructure facilities such as covered warehousing, open storage and Mobile Harbour Cranes.
• The Port has excellent evacuation facilities with 3 railway sidings and National Highways within a Kilometer from the gate. An area of around 600 acres is covered by the Port boundaries.
• Series A Funding: Karaikal Port got Rs. 150 cr equity from IDFC fund in 2010
• Series B Funding: Ascent Capital invested Rs. 200 cr in Karaikal port in 2011.
• Series C Funding: Standard Chartered arm invested Rs. 130 cr in Karaikal Port in 2012.
• Series D Funding: PE fund Jacob Ballas invests Rs. 200 cr in MARG Karaikal Port in 2012.
---
Total Funding: Rs. 680 Cr.
Employees51-200
DescriptionIndia's Largest Private Port to handle large vessels and diverse cargo mix.
Milestones
• GRK Reddy awarded as "Business leader & Visionary of the year" at the 5th South East Cargo and Logistics Awards 2013, Chennai.
• MARG Karaikal Port adjudged as the 'Best Project' under the Port Development category at the prestigious 'D&B – AXIS BANK INFRA AWARDS 2012', Mumbai.
• MARG Karaikal Port Chosen as the 'Innovative Port of the Year' at South East CEO Conclave & Awards, 2012.
• MARG Karaikal Port recognized with 'EXIM Achievement Award' for its operational efficiency in EXIM operations by Tamil Chamber of Commerce on 7th February 2012.
• "Special Jury Award" for GRK Reddy at the 'Gateway Awards of Excellence – Port & Shipping 2012' on 19th January 2012 at New Delhi.
• MARG Karaikal Port bags the "Seaport project of the Year" at the 'Construction Week Awards 2011' at Mumbai.
• MARG Karaikal Port awarded as 'Emerging Port of the Year' at South East Cargo & Logistic Awards in July 2011 at Chennai.
• MARG Karaikal Port received the prestigious award for "Outstanding Achievement – Port Development & Port Management" conferred by SHIPPING, MARINE & PORTS World Expo 2010 on March 4, 2010, in Mumbai.
• GRK. Reddy has been awarded the 'South East CEO Conclave Award 2010' for Corporate Social Responsibility.
More Information
Key People
• GRK. Reddy: CEO
• M. L. N. Acharyulu, Executive Director – Marine Infrastructure
• V. Chellappan, Chief Technical Advisor (Marine Projects)
• Capt. K.N.Ramesh, Chief Operating Officer - KPPL
Products / ServicesPort, Cargo
Phone Number+91 44 4562 4000
Company Office Address
Karaikal Port Private Limited,
5th Floor, MARG 'Pancham',
Block B, No.334, Futura Tech Park,
Rajiv Gandhi Salai, Sholinganallur,
Chennai -600 119, India
Web Address: www.karaikalport.com