Mphasis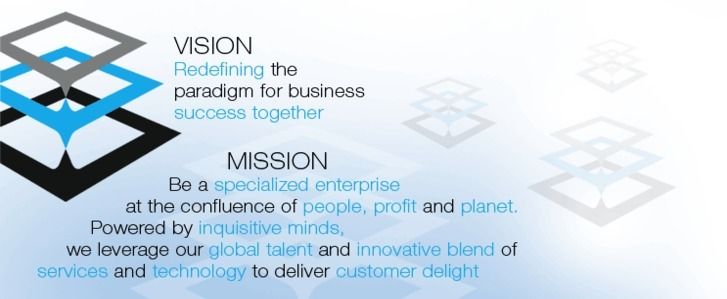 Mphasis is a Bangalore based IT services company majority owned by Hewlett-Packard.
Mphasis provides infrastructure technology and applications outsourcing services, as well as architecture, application development and integration, and application management services.
Mphasis serves financial services, telecom, logistics, and technology industries
Mphasis is a leading IT solutions provider, offering Applications, Business Process Outsourcing(BPO) and infrastructure services globally through a combination of technology knowhow, domain and process expertise.
Mphasis have left an indelible impression in the IT solutions domain with an impressive clientele and an extensive global presence.
Mphasis accolades we have been garnering can be attributed to our undeterred focus in delivering quality solutions across verticals that meet the challenging requirements of our esteemed customers.
Mphasis integrated solutions offering is aimed at creating value for our customers, helping them in improving their business processes with minimum hassles and capital outlays.
 Financials for the year ended on 31st March 2014
Revenue: Rs. 1,369 Crores
EBIDTA: Rs. Rs. 327 Crores
Net Profit: Rs. 223 Crores
Employees10000
DescriptionMphasiS delivers Applications, Infrastructure, and Business Process Outsourcing (BPO) services globally.
Milestones
• TATA AIG wins Celent Asia Insurance Award (Service) for its TAGIC CRM Platform designed by MphasiS
• Ganesh Ayyar wins India Talent management award at the CNBC TV18 India Business Leader Awards
• MphasiS ranked No. 165 amongst the FORTUNE 500 companies in India and No. 7 in the INFOTECH segment
• Mphasian Ashwin Karthik wins the 13th NCPEDP - Shell Helen Keller Award 2011Ganesh Ayyar, CEO MphasiS has won the Asia's • • Viewers Choice Award in the 10th CNBC Asia Business Leader Awards 2011
• MphasiS awarded NASSCOM Corporate Awards for Excellence in Diversity and InclusionWaste Wise Business Recyclathon Award • MphasiS ranked No. 23 among the Top 100 companies in FinTech 100 for the year 2011  
More Information
Key People
• Dr. Friedrich Froeschl - Chairman and Director
• Ganesh Ayyar - CEO and Executive Director
• Elango R - Chief Human Resources Officer and Head Emerging Geographies Business Unit.
• Peter Kassabov - Chairman & CEO-Digital Risk
• Puneet Bhirani - Chief Administrative Officer and Head Mphasis Payment Managed Services.
• V. Suryanarayanan (Surya) - Chief Financial Officer (CFO) 
Products / ServicesIT, business consulting and outsourcing services
Phone Number+91 80 3352 5000
Company Office Address
Bagmane World Technology Center,
Marathahalli Outer Ring Road,
Doddanakundi Village,
Mahadevapura,
Bangalore - 560 048, India
Web address: http://www.mphasis.com/