Pokkt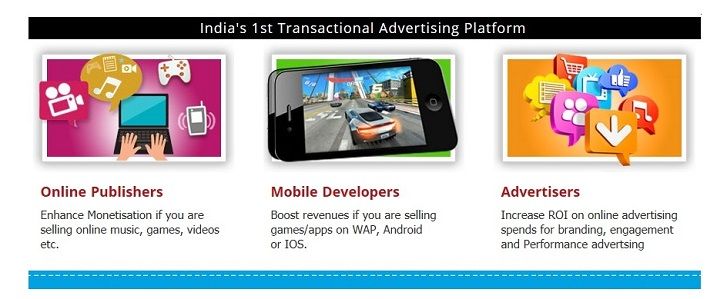 • POKKT is an Alternate Mobile Monetization Platform that helps owners of Paid Digital Goods and Services to monetise their users through an advertiser-funded Model. Pokkt has created a proprietary technology product, which is world class and helps in creating this additional value in the existing system.
• Pokkt has solutions across platforms for publishers and developers of paid digital content (music, games, videos, software, Mobile recharge etc.) to acquire new customers and monetize their content and significantly boost revenues. Pokkt help them effectively convert non-paying users to paying users for any kind of monetisation be it pay per download, try and buy, virtual goods transactions, subscription etc.
• For advertisers, Pokkt provide multiple engagement tools via its proprietary transactional advertising technology. POKKT reaches out to millions of active users on mobile and web and helps advertisers optimise and target their campaign.
• For users wanting to buy digital content on web or mobile, POKKT provides an opportunity to make that purchase free by offering multiple alternative Monetization tools, like watching videos, subscribing to services, installing applications, participation in surveys etc.
DescriptionPOKKT is a leading Alternate Mobile Monetization Platform
More Information
Key People
• Rohit Sharma: Founder and CEO
• Vaibhav Odhekar: Co-Founder and COO
• Sharad Ingule: Co-Founder and CTO
Products / Servicespokkt
Company Office Address
Maiden Marketing (India) Pvt. Ltd.
301, 3rd floor, Jai Krishna Complex,
Fun Republic theatre lane,
Off Link Road, Andheri - West
Mumbai - 400053
Web Address: www.pokkt.com