Uflex Limited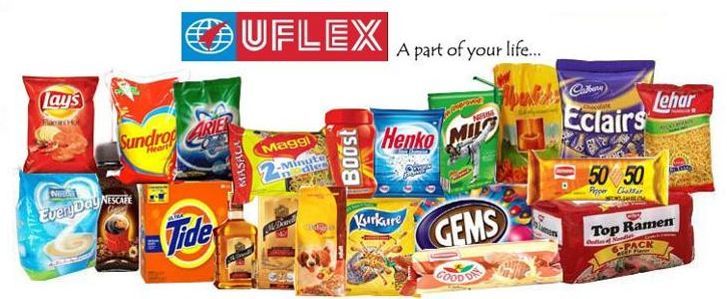 Uflex Limited is India's largest and fastest-growing flexible packaging company. It is a Mid Cap company.
Headquartered in NOIDA, the Company has manufacturing facilities in India and Dubai. It has offices in UAE, Europe & North America as well, and has significant market presence in more than 85 countries.
Uflex manufactures plastic film and packaging products providing end-to-end solutions to clients.
Uflex facility enjoys ISO 9001 and ISO 14001 certifications and has FDA and BGA approvals for their products.
Uflex is also part of the D&B Global Database and winner of various prestigious national & international awards like the top exporter of BOPET and BOPP films, and the Worldstar Award for packaging excellence. FPA, AIMCAL and the DUPONT Awards in 2004-2005 are the latest in this series.
Uflex has always been committed to the industry by providing technical know-how and being the trend-setter in the flexible packaging industry.
For the quarter ended 31-Mar-2015, the company has reported stand-alone sales of Rs. 757.37 Crore, down -2.56% from last quarter sales of Rs. 777.29 Crore and up 1.72% from last year same quarter sales of Rs. 744.54 Crore. The Company has reported net profit after tax of Rs. 45.21 Crore in latest quarter.
Employees5000+
DescriptionUflex Limited is the largest flexible packaging company in India and only vertically integrated company with large capacities to manufacture Plastic Film and packaging products.
Individuals who are interested to be part of this growth can find multiple career paths for advancement. Career path could be along one functional discipline or across range of functions. Uflex has a structured process for identification of Hi-Pots and putting them on an accelerated growth path.
The 'Uflex Leadership for Future Program' has been designed to build a pool of young, fresh and competent talent with critical exposure to business functions. Their ULFF Program is as an imperative initiative for the emerging needs of the organization and to create a pool of fresh talent who can further be groomed for handling important positions in the organization.
The main USP of the ULFF program is:
Structured trainee program encompassing different functions across business
Global Exposure
Structured Mentorship for all the trainees joining the organization
Check the following link for current openings at Uflex:
More Information
Key People
Shri Ashok Chaturvedi, Chairman & Managing Director
Products / ServicesBOPET, BOPP and CPP; state-of-the-art packaging and converting machines, rotogravure cylinders, packaging material
Phone Number+91-120-4012345
Company Office Address
Uflex Corporate Office,
A-108, Sector-IV,
NOIDA - 201301 (U.P.)
Website: www.uflexltd.com
Company Achievements
• AIMCAL Award for Stand-up Slider Zipper Pouch with Hologram
• Dupont Award for Edible Oil Refill Pack (1996)
• Dupont Award for 2005, 2006 for Excellence in Packaging Engineering & Beverage Category
• Worldstar Award for Excellence in Packaging (1995)
• Best Paper Award at Recycle'95 at Davos Global Forum (1995)
• Packaging Printing and Converting Award for Carry Bags for Tyres & Tubes (1997)
• Packaging Printing and Converting Award for CTC Leaf Tea and Holographic Semi-Stand-up back for Bearings (1997)
• Award for Excellent Performance in Export by Govt. of Uttar Pradesh (2003-04)
• Award for Second Best Exporter of Polyester Film by the Plastics Export Promotion Council (2002-03)
• Award for Top Exporter of BOPP Film by the Plastics Export Promotion Council (2002-03)
• Super Brands awarded by the Super Brands Council
• Mr. Ashok Chaturvedi, UFlex Chairman, was conferred with Outstanding Entrepreneurship Award at Asia Pacific Entrepreneurship Awards 2010 India
• Marketing Award by the Association of International Metallizers, Coaters and Laminators (2011) for innovative, high graphic quality pouches