Zapstitch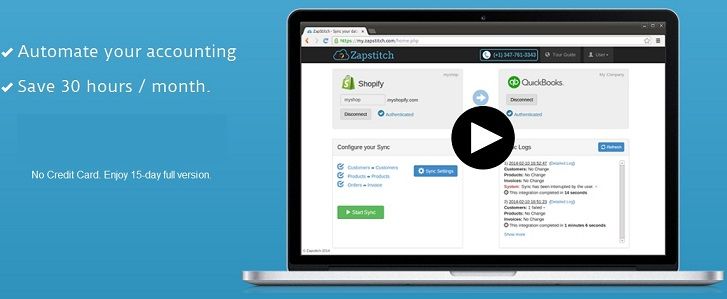 • Zapstitch have developed a cloud based app that seamlessly sync and manage data, minus the API developer.
• A cloud based business app, Zapstitch, aids companies migrate, synchronize and manage data between the various cloud based apps employed by them.
• Zapstitch currently supports Shopify, Magento, Quickbooks, Freshdesk and bigcommerce.
• Zapstitch believes that data is highly fragmented between various Cloud Business Apps. They have built a product with a sole focus on Integrating data between these Cloud Apps.
• Zapstitch was created to solve the problem of data integration that companies undergo when they require data from ecommerce, CRM, accounting and from other cloud based apps. The app steps in to integrate the data from these various SaaS based apps and help companies manage their files.
Employees1-10
DescriptionWe integrate Shopify Store with QuickBooks Online.
More Information
Key People
• Satya Padmanabham: Co-Founder
• Senthil Sundaram: Platform Engineer
• Anant Bhargatiya: Platform Engineer
• Ankur Mishra: Front End Engineer
• Tejaswi Raghurama: Sales & Support
Products / ServicesSaaS for integrate apps
Company Office Address
#35, 14th Main,15th cross,
Sector 4,HSR Layout,
Bangalore India.
Web Address: www.zapstitch.com