IIM, Indore Students Participate in Innovative Executive Leadership Certificate Program at Pittsburgh University
| May 23,2010 12:39 pm IST
Thirty nine executive students from the Indian Institute of Management (IIM) Indore visited Pittsburgh in February 2010 to attend the inaugural leadership program offered by the Center for Executive Education (CEE) of the University of Pittsburgh, Joseph M. Katz Graduate School of Business.
Despite the worst snowfall in twenty years, the group immediately dived into a challenging curriculum that included faculty presentations, company tours, and talks given by business leaders.
CEE's Executive Leadership Program for IIM Indore was an intense, two-week immersion that explored topics of creativity, global business strategies, corporate social responsibility, leadership, entrepreneurship, innovation, and more. The participants visited the research and development facilities of PPG Industries and the UPMC Center for Connected Medicine and heard high-level speakers from other major organizations.
Panel discussions addressed the Brazilian and Chinese markets and their relationship to India, and the group explored six widely different industries, including integrated healthcare, transportation, and aerospace.
"For the last year and a half we have been exploring initiatives in Asia to complement the executive education programs that we offer in Pittsburgh, Brazil, and the Czech Republic," said Anne Nemer, assistant dean and executive director of Executive MBA Programs and Executive Education in the Katz School.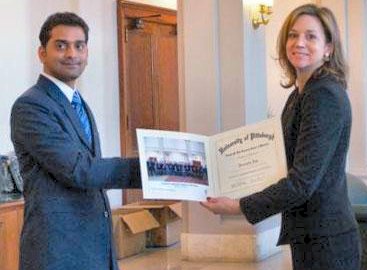 IIM Indore Student at University of Pittsburgh
"India is the largest democracy in the world with a diverse and creative population. It is very exciting to see this partnership develop between two great institutions, the University of Pittsburgh and IIM Indore."
Approximately one-third of the EPGP IIM Indore participants that visited Pittsburgh were from an information technology background while other participants included professionals from the marketing, banking, engineering, military, and even medical fields. The EPGP participants are experienced professionals with an average of nine years in their profession and a range of five to seventeen years experience.
Participants were particularly impressed with the insights they got from the world renowned faculty, and from creativity and leadership sessions which added tremendous value to participants' understanding of different cultures, countries and cross-organizational influences.
The University of Pittsburgh also organized industry visits and interaction sessions with top business leaders. The visits to companies in various industries were very helpful to participants in getting firsthand American industry experience.
Concluded.
.