Unilever Sustainable Living Plan helping to drive growth
| April 22,2013 06:14 pm IST
Unilever's commitment to put sustainable and equitable growth at the heart of its business model is helping to drive increased sales while reducing costs and risks, according to the second Unilever Sustainable Living Plan Progress Report published on 22 Apr 2013..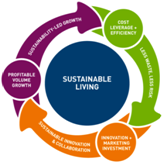 Globally, brands that have made sustainability central to their brand proposition or product innovation have accelerated sales during 2012:
· Lifebuoy soap, which has increased its handwashing education programmes, has seen double digit growth in each of the last three years;
· Dry shampoos such as TRESemmé and Dove, which result in 90% less greenhouse gas emissions compared to washing hair in heated water, grew by 20% in 2012
· Calorie-controlled Max and Paddle Pop children's ice creams grew high double digit in 2012.
Unilever is also accelerating the integration of sustainability into the heart of many of its biggest brands. For example Dove, its largest personal care brand with sales of over €3 billion, redesigned its self esteem programme for young people in 2012 to further strengthen its engagement with consumers by helping them look and feel their best. Last week Dove launched a new Real Beauty campaign and just in a couple of days the video reached over 10 million views on YouTube. Another example comes from Unilever's biggest brand, Knorr, which launched its first product with a 'sustainably grown' label on pack, with more to come.
At the same time, eco-efficiencies in Unilever factories from reducing energy, water, materials and waste have enabled the company to take over €300 million out of the system since 2008. Unilever has also reduced risk at a time of volatility in food commodity prices by increasing its purchases of agricultural raw materials from sustainable sources from 14% in 2010 to 36% in 2012.
Paul Polman, CEO of Unilever: "Sustainability is contributing to our virtuous circle of growth. The more our products meet social needs and help people live sustainably, the more popular our brands become and the more we grow. And the more efficient we are at managing resources such as energy and raw materials, the more we lower our costs and reduce the risks to our business and the more we are able to invest in sustainable innovation and brands."
Unilever Sustainable Living Plan 2nd Year Progress
In 2010 Unilever set three big goals, all to be achieved by 2020:
1) Help more than a billion people take action to improve their health and well-being;
2) Source 100% of agricultural raw materials sustainably;
3) Halve the environmental footprint of its products across the value chain.
Two years in to its ten-year Unilever Sustainable Living Plan, Unilever reports solid progress on two of its three big goals.
Help more than a billion people take action to improve their health and well-being
Unilever has reached 224 million people worldwide with programmes to reduce diarrhoeal disease through handwashing with soap, provide safe drinking water and through other health and well-being initiatives. Lifebuoy soap reached 71 million people in 16 countries in 2012 – five times as many people as in 2010.
In India, Hindustan Unilever Limited (HUL) has reached over 47 million people since 2010 through Lifebuoy Handwashing programmes. In 2012, Lifebuoy reached 17 million people in India. In partnership with UNICEF and the Government of Madhya Pradesh, HUL reached out to three million people by the end of the first quarter of 2013 with its rural school contact programme to inculcate the habit of handwashing in children.
Source 100% of its agricultural raw materials sustainably
Unilever now buys over a third (36%) of its agricultural raw materials from sustainable sources, with particular progress in palm oil, sugar, cocoa, vegetables and sunflower oil. We have also now helped to train 450,000 tea farmers in sustainable practices, of whom over 300,000 have achieved Rainforest Alliance certification.
By end of 2012, HUL sourced 69% of its raw materials sustainably in India. In 2012, 100% of palm oil sourced by HUL was covered by 'Green Palm' certificates.
Halve the environmental footprint of its products across the value chain
Globally, between 2008-2012 greenhouse gas emissions from energy in manufacturing have been cut by nearly a third and manufacturing waste has halved for Unilever. Over half of Unilever's 252 manufacturing sites around the world now send zero non-hazardous waste to landfill, and the company has set itself a new target of extending this to all its factories by 2015.
In its manufacturing operations, HUL has reduced CO₂ emissions by 22%, water usage by 29% and waste by 77% against the 2008 baseline. In India, 31 out of 38 factories are now 100% zero non-hazardous waste to landfill.
However, its own manufacturing impacts account for only a small part of the total environmental footprint of Unilever's products in the total value chain – just 4% of its greenhouse gas (GHG) footprint for example. The majority of Unilever's product footprint is in the sourcing of raw materials (25% of its GHG footprint) and in the way consumers cook, clean and wash with the products (68% of its GHG footprint). One of our biggest challenges remains how we encourage our consumers to use our products more sustainably at home.
Looking ahead
.