IIM Raipur invites Applications for 2nd Batch of PGPWE
| April 18,2013 12:24 pm IST
IIM Raipur invites application for the Second Batch of PGPWE (2013-2015). Elaborating on the nature of the program, Prof Pradyumna Dash,Chairman(Admissions), said, "The Program is interdisciplinary in nature which serves to enrich classroom experience.
The programme is designed to be rigorous and rewarding. In ways like these the program is especially suited for anyone looking for professional and personal growth."
Prof. K.K. Ray, Chairman (PGPWE) said that the program intends to broaden core leadership competencies to further enhance the professional growth of participants. The specific objectives of the programme are to provide participants with the fundamental principles of effective management, develop understanding of the roles and responsibilities of business managers in increasingly global nature of business, sharpen diagnostic and analytical skills and to develop leadership capabilities.
Informing the media regarding thepast experience of the program, Prof. B.S.Sahay, Director IIM Raipur said, "IIM Raipur started Post Graduate Programme for Working Executives (PGPWE) last year. I am happy to see that this programme received tremendous response from all stakeholders including public sector, private sector and government organisations. The program is for qualified professionals who could not pursue their management education due to different reasons. It will provide an opportunity to such experienced professionals and empower them with the knowledge, skill, attitude, flexibility and to develop their career to its fullest potential without compromising on their professional and personal pursuits."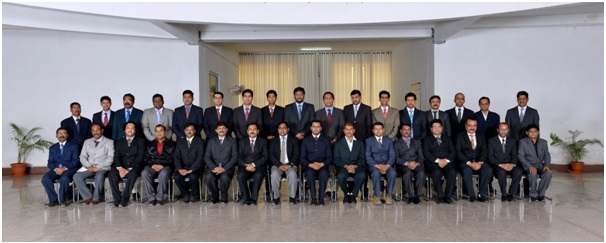 The Post Graduate Programme in Management for Working Executive (PGPWE) is an intensive one and a half year post graduate program in management, especially designed for mid/senior level professionals. The program is formulated and designed to enhance skills and capabilities essential for managerial positions. The focus is to enable and develop managers that understand global embedness and requirements of their organisations as well as also understand the intricacies of business at functional and strategic levels. The program also has given a special emphasis on emerging economies which have enormous potential and business opportunities. Especially suited for professionals who have a desire to upgrade to managerial ranks, professionally grow and contribute to their organisations, the classes will held on weekends only with the duration of 12 hours a week.
This year, intake in PGPWE has increased to 70 to encourage a diverse batch of students from different backgrounds and professions. The Institute follows the Government of India rules in providing reservations. The admission for the next batch of PGPWE will involve shortlisting of Candidates that will be done on the basis of the CAT/GMAT/BAT Score. Candidates seeking admission to the PGPWE programme of IIM Raipur (2013-15 batch) either have to submit their CAT score or GMAT score. Those who do not have any of these scores have to appear for the BAT organized by IIM Raipur .Candidates applying through CAT have to mention their CAT Registration number in the PGPWE Application form. Accordingly, candidates applying through GMAT have to submit their GMAT score along with the PGPWE Application form. The candidates who wish to apply through Business Aptitude Test (BAT) will have to mention the same in the application form. After this an initial shortlisting on the basis of CAT/GMAT/BAT scores a personal interview would be conducted at Raipur. A final merit list will then be prepared.The inauguration of the program will be on June 27, 2013 and after the successful completion of their course the students would be awarded the "Post Graduate Diploma in Management for Working Executives".
For More Information CLICK HERE
.