Finance Club of IIM Shillong launches Niveshak Investment Fund
In the December edition of its flagship monthly magazine Niveshak, the Finance Club of IIM Shillong launched its first investment fund named after its magazine as 'Niveshak Investment Fund'. The Niveshak Investment fund is a diversified equity portfolio that aims at growth from a focused and optimally diversified portfolio strategy.
The investment portfolio would comprise of about 25 - 30 stocks belonging to the large and midcap companies.

The Finance Club of IIM Shillong has not fully disclosed their strategies to select stocks to trade. This is a completely student driven activity by the students of IIM Shillong. Some of the key features as disclosed by the Finance Club are:

• The fund aims to optimize the risk-adjusted return by building a portfolio of large and mid-cap stocks across sectors, selected as per "Sector Choice Methodology" developed by finance club of IIM Shillong
• It will follow a blend of top-down macro research to identify growth sectors and bottom-up fundamental research to cherry pick stocks
• It is an equity fund focused on investing in carefully selected stocks offering best possible risk-adjusted return across identified sectors with potential growth opportunities
• It aims to give an edge by capturing the best sectoral opportunities in the market
• A smaller allocation to other sectors will be done purely for defensive considerations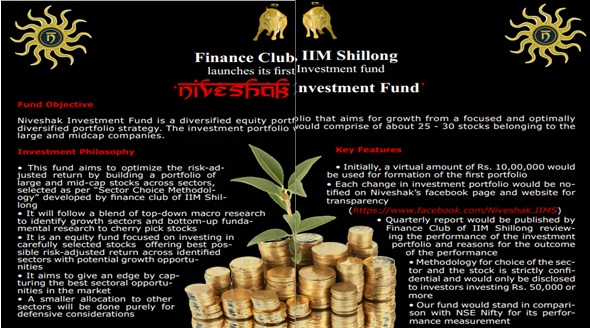 Finance Club of IIM Shillong also wants to ensure transparency by intimating all the changes made in the portfolio through its facebook page of Niveshak Magazine and issuing a quarterly report on fund performance. The club also said that their portfolio maintenance strategy would be only disclosed to investors investing a sum of more than Rs. 50000. The fund performace would be measured against NSE benchmark index Nifty.
.