Paying the Price of Being a Foot soldier of Wall Street
Thought I'll share SEC's press release of April 2010 charging Goldman Sachs with fraud in selling a CDO famously linked to the French Gentlemen who called himself the " Fabulous Fab". While Mr Fabrice Tourre is now probably facing jail time after being found guilty on Six of Seven counts, the company " Goldman Sachs " is mostly likely getting away.
Yes, the company did pay a penalty but it has made that money already so clearly no real harm done!
And with regards to Mr Tourre, well he will most likely become the sacrificial goat or be considered a necessary collateral damage by the top management of his company. He has paid the price of being a good foot soldier of wall street. And that's probably a good reflection of the mindset of the top management of Wall Street not just Goldman Sachs. Gus Levy famously created a philosophy within Goldman Sachs (GS) called " Long Term Greedy " when he took over the helm around 70s. Marcus Goldman ( the founder ) created a name for himself through an innovative commercial paper program which got the company into a mega mess when Penn central transport company went bankrupt and the company has gone through many similar crisis but somehow "GS" has always managed to come out OK and also what some may find intriguing is the fact that the company was even able to get US treasury money in the amount of around US 20 billion to back its Mexican Sovereign bond position around 94 during the Mexican crisis. Robert Rubin ( the ex Goldman Boss ) did raise a lot of eyebrows for using US tax payers money under his control as the treasury secretary to support GS Mexican's sovereign bond holding but nothing really happened. That's Goldman and its influence is spread across the world. The Boss of ECB ex Goldman Top Executive, the boss of Bank of England ex GS executive. So, May be Goldman is doing the God's work as Blankfein ( the current CEO of GS) famously said few years ago ? Now the question is why and who can interfere with God's work ?
By going after Mr Tourre SEC didn't address or solve the " long term greedy " culture within Goldman Sachs. For any real change to happen the culture and the mindset at the TOP will have to change. And may be Goldman Sachs and others will need to realise that just making money isn't doing God's work as quite simply God didn't create Euros, Dollars , Yen, RMB, we did. And While Mr. Blankfein has been able to mend his company and return to profit as expected I wonder just how is he or his company going to mend broken people and families who are still suffering from the consequences of the CRISIS ?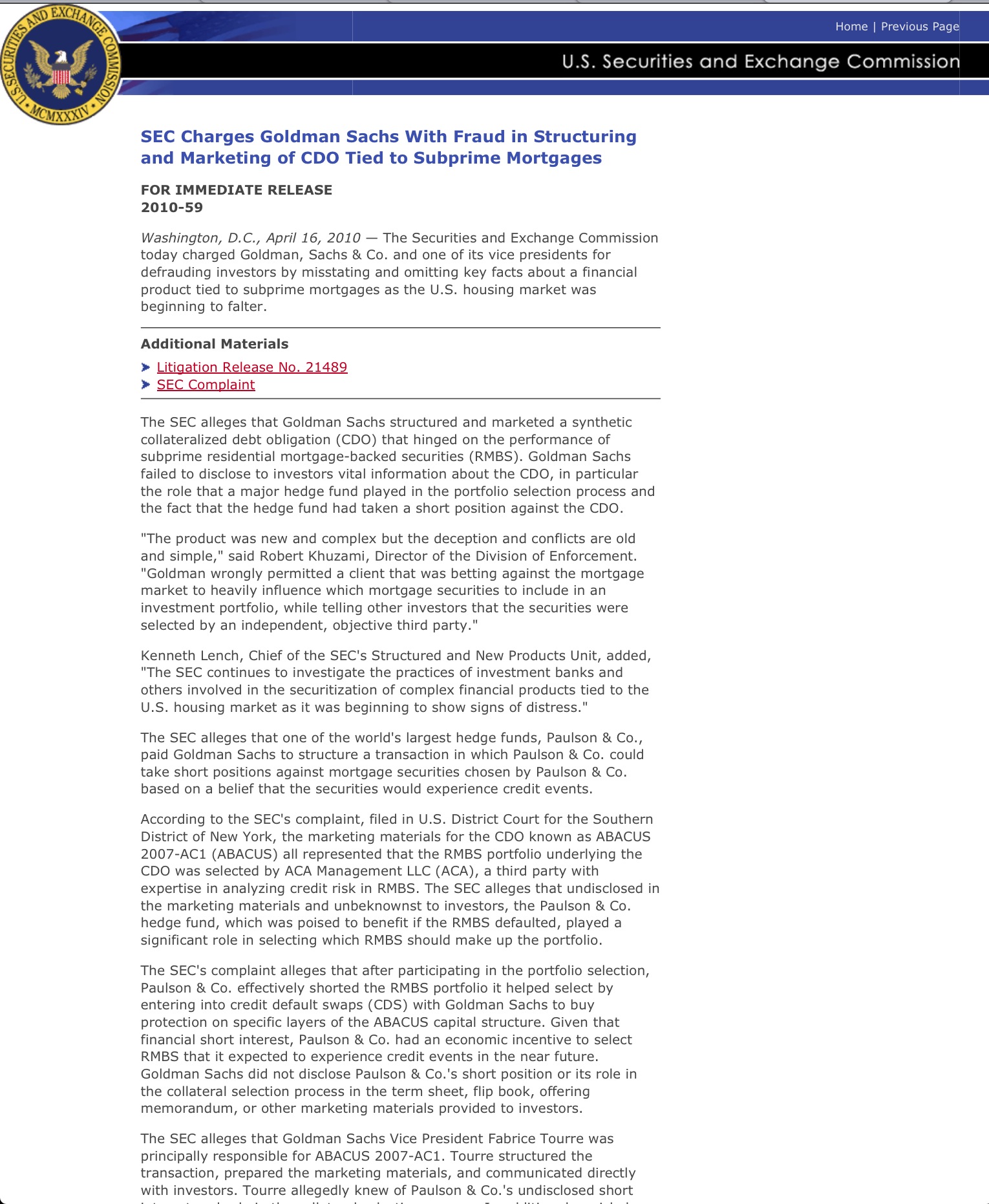 .