Recent developments and business opportunities in Indian financial markets
The Indian financial markets are undergoing major transformation since the last 2 years. We are witnessing lot of new developments in Indian financial markets.
This article attempts to cover some of the recent developments in Indian financial markets and the possible business opportunities that one can avail.
To begin with, recently [Apr 2011], NSE, National Stock Exchange of India introduced the Smart order routing [SOR] which would allow the orders to pass from NSE to various other stock exchanges. What SOR does is that it looks for the best possible price across various exchanges. So if Reliance is trading at 995 in NSE and at 1000 in BSE, this SOR system would execute your order on NSE and thus save you Rs 5 per share.
Smart order routing is a new phenomenon in our markets, though this concept is already in existence in US, UK and Saudi markets.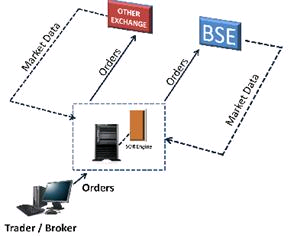 Picture Source: BSE, Bombay Stock Exchange
What SOR would further do is that it will bring in more algorithmic trading. Algorithmic or Program trading is again a new concept in Indian financial markets. NSE bought it in early 2009 and BSE too started algorithmic trading in early 2010. What Algorithmic trading means is that instead of manual orders, the control would be given to the algorithms which will decide when to take position in the market and when to square off the positions. So with these algorithms various strategies can be developed, and without manual intervention, these algorithms can generate huge profits for the traders.
In India, some algorithms which became very popular were arbitrage algorithms. Arbitrage refers to taking advantage of price differential between 2 exchanges or between 2 calendar months on same exchange. These algorithms would bring in more liquidity and thus more efficiency in our markets.
In mid-2008, SEBI [Securities and Exchange board of India] gave approval for DMA [Direct market access]. What DMA means is that it allows the broker to give direct access to its clients. So a client can use the infrastructure of the broker and place orders directly in the stock market, instead of calling up the broker on phone and asking him to place an order. DMA has potential advantages - in that it would speed up execution of orders and would give more control to clients. Also DMA will help reduce errors because now the clients would place orders themselves and so the chances of manual errors are less compared to the previous scenario when clients had to call up broker on phone and the broker used to place orders for them.
Also, the coming up of financial instruments like currency futures and currency options is pretty new in our markets. Currency trading started in mid- 2008 and has witnessed huge volumes. In fact, recently the volumes in currency options have broken all records. There is huge business opportunity in this segment too as the currency markets are worth more than 2 trillion dollars! So currency trading offers a huge business opportunity.
Another recent development in Indian financial markets is the coming up of various electronic trading conferences- namely FixGlobal Face2Face and TradeTech events. These events provide tremendous opportunity for interaction of various stakeholders in financial markets. For example- the FixGlobal event in Mumbai saw participation by stock exchanges, buy side and sell side firms, Technology companies providing financial markets solutions, investment banks, financial markets news agencies, etc. Such events have started in Indian markets since last 3 years and provide a great networking as well as learning opportunity for everyone.
Business opportunities to enter financial markets
There are innumerable business opportunities in financial markets for budding entrepreneurs. As of now, the Indian financial markets are evolving and there are opportunities in various sectors viz. financial market education, retail investor participation, exploring opportunities in stock broking etc. So this gives us tremendous scope of innovation and growth potential.
There are various ways one can enter the financial markets in India:
1. As an IT company developing financial products - you can start your own IT company and get in touch with various brokerage houses and work with them in developing IT solutions catering to financial markets.
2. Franchise route - you can take a franchise of a brokerage house and become a sub broker yourself. This way you can bring more clients for the brokerage house and you can earn money.
3. Education in financial services- Well, you are well acquainted with financial services industry, but wealth management is not your cup of tea, right? In that case, why not explore the opportunity to create a capital markets school? Education is a huge industry in India and you can get a pie of it by creating courses that offer learning opportunity to students, professionals, traders, etc. In India, CFA, FRM and other educational courses are getting popular and so there is also a demand for faculty, institutes that can help the students clear these international certifications.
In the end, I have 2 tips for you, each worth a million dollar.
Here is the first one- For getting into any business, it is essential that you know the theoretical part before getting practical. To build the theory, you need to do your homework and build knowledge. To build your knowledge in this area, you can pursue various certifications which will help you get an overview of various stakeholders involved in this industry. So if you feel that you need to learn about financial markets, you can begin by taking certifications from NSE [National Stock Exchange], BSE [Bombay Stock Exchange] or NISM [National Institute of Securities Management, promoted by SEBI]. If you feel confident to learn the depth about financial markets, you may go for CFA [Certified Financial Analyst] or for FRM [Financial Risk Management - which will help you learn about various kinds of risks]. Alternatively, you may also go for an MBA in finance and get holistic learning not only in finance related subjects, but also in various other subjects and how they relate to each other.
.