ABC, the Balanced Scorecard and EVA-Distinguishing the Means from the End

What do organisations focus on?
The balanced scorecard usually has four broad categories, such as financial performance, customers, internal processes and learning and growth. Typically, each category will have two to five measures.
If the business strategy is to increase market share and reduce operating costs, the measures may include market share and cost per unit. Another business may choose financial indicators that focus on price and margin, willingly foregoing market share for a higher-priced niche product. These measures should be set after the strategy is in place. A list of objectives, targets, measurements and initiatives comes with each variable, as shown in Exhibit 3. The saying "we manage what we measure" holds true. One reason the balance scorecard works is because it raises awareness.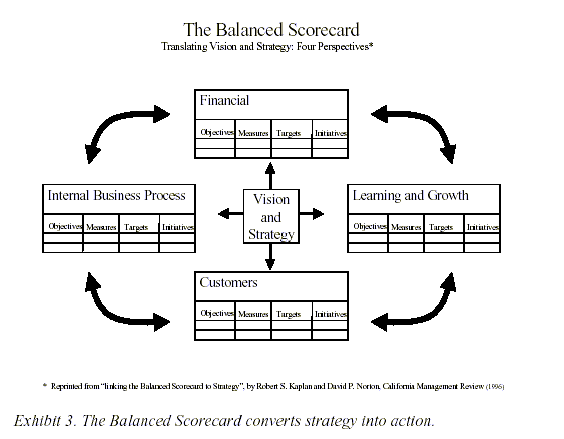 It lacks a single measurement for accountability
The balanced scorecard, if properly implemented, is an excellent management framework that can help managers to track the many factors that influence performance. But it lacks a single focus for accountability. Management needs one overriding goal to summarise the interaction between the variables and, ultimately, determine success.

Shareholders entrust management to implement strategy but their primary concern is earning an adequate return on their investment. EVA, as discussed below tells us whether managers have balanced the scorecard measures "right" and as Kaplan says "Creating EVA is the ideal outcome of a successful strategy, and that's what we are trying to do."

Economic Value Added:

There can be only one measure that summarizes success
EVA is the one measure that is used to monitor the overall value creation in a business. EVA is not the strategy; it is the way we measure the results. There are many value drivers that need to be managed, but there can be only one measure that demonstrates success. A single measure is needed as the ultimate reference of performance to help managers balance conflicting objectives.

Improvements in EVA are synonymous with increasing shareholder wealth
The EVA measure was created by Stern Stewart to address the challenges companies faced in the area of financial performance measurement. By measuring profits after subtracting the expected return to shareholders EVA indicates economic profitability. It tracks share prices much more accurately than earnings, earnings per share, return on equity or other accounting metrics, as strongly supported by empirical studies. Creating sustainable improvements in EVA is synonymous with increasing shareholder wealth.

EVA is not a new concept. Economists have known about the residual income framework for years, but businesses have only recently begun to make the switch from managing for earnings to managing for value. EVA has facilitated this process by providing practical applications that operating managers can use and embrace.

Multiple measures cause confusion
One of the great benefits of the balanced scorecard is that it illuminates the objectives that drive the strategy. In the same manner, EVA provides a common language across the organisation. Typically, different metrics are used for different processes. For example, sales growth and market share are discussed when strategy is formulated, NPV or IRR are calculated when capital investments are considered, earnings and EPS are considered when an acquisition is contemplated, yet trading profit is used when bonuses are determined. Which do you manage? Managers who use IRR to get a project approved don't need to worry about their actual performance because IRR cannot be used to measure performance in the middle of a project. Managers who are rewarded against a budget know that budget negotiation skills can be more lucrative than actually delivering results.

EVA gives you accountability
EVA can be the single metric used in all of these management processes. When decisions are made, performance is measured and compensation is determined using the same measurement you get accountability. Operating managers also find that EVA simplifies their job, as they barely understand the interaction between the multiple existing measures.

EVA is the way success is measured and rewarded
When EVA is the focal point of all management processes, the organisation will function more effectively. A common language and a clear objective based on one measure will remove much of the confusion and blurred objectives that cripple organisations. A large part of an organisation's culture comes from the way success is measured and rewarded. The balanced scorecard can help employees deliver on the corporate vision, but EVA tells them whether they have been successful and should be rewarded.

Critical Success Factors:

All three frameworks begin with new measurement techniques. At the outset, it is important to understand the barriers that can prevent the project from becoming successful. Creating more or better information is not necessarily going to lead to better decisions. In fact, adding another measurement to the existing pile of measurements will actually complicate matters. Managers must be motivated to act upon their new information. When managers are not rewarded to make the right decision, it will rarely be made.

Balance simplicity and accuracy
Another critical factor is achieving a balance between simplicity and accuracy. An overly complex model may be more accurate, but the project could collapse under the weight of mountains of data that hide the relevant facts. And, as an overly complex model may be too difficult for managers to understand, an excessively simplistic model might lead to the wrong decisions.

Ensure senior management commitment
Senior management commitment is imperative for the project team to receive the support necessary to deliver results. Without this commitment, the project will be viewed as another "flavour of the month" or, worse, another "bean-counter" initiative.

Management behaviour is the critical factor
The desired result is not to get better information, but to increase the value of the organisation. The only way these frameworks will achieve this goal, is if the right decisions are made using the new information. People, not information, add value to the organisation, so the project must positively affect management behaviour for it to be successful.

.