Engaging employees through communication
| November 02,2011 12:51 pm IST
R. Ramanan, CEO, CMC Ltd.
speaks of how communicating and constantly keeping in touch with employees is crucial in today's globalized world.
Today's dynamic environment signifies that the nature of workforce is changing rapidly. A large number of the staff is young, energetic and tech savvy who are well connected to their peers, friends and all those who matter to them. Social media platforms with their user friendly and interactive features that help transcend geographies and cultural boundaries have ensured that this generation stays constantly connected. Also, 'anywhere anytime' internet access through mobile phones allows this workforce to be well informed and makes it a powerful influencing tool. This, in turn, has greatly influenced the way we view our internal communication.
To communicate with and engage this tweeting and Facebook driven workforce is the new challenge who always has the need to directly approach senior/top management with their ideas, opinions and views.
Well, we try to offer more forms of communication where direct/ one-to-one communication with top can be possible. So, we came up with many internal communication programs that could bring in a 'personal touch' for them to be effective. As we believe effective communication is one of the primary mechanisms to build higher enthused workforce engagement. At CMC, we continuously emphasize the need for effective internal communication by genuinely creating opportunities for free and frank two way dialogue between staff and the key decision makers of the organization.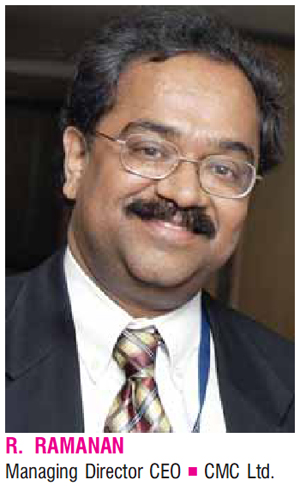 And as a CEO, I play a very crucial and significant role in making this happen. Thus, we have focused on creating multiple channels by which employees can communicate and collaborate to achieve their objectives.
I strongly believe in open communication and am directly accessible to the workforce in some ways. One way of reaching me is through direct mails to CEO. Of course, this has its limitations to enable a free flowing unhindered form of communication since people are constrained to worry about being articulate while putting forth their suggestions on mail.
To enable a more engaging communication, we followed the process of holding town halls and informal employee meets with local employees whenever I travelled to different offices. These meets were always met with huge enthusiasm and anticipation in employees who were eager to connect with me, discuss their issues and share their views that directly or indirectly impact them.
There was a lot of communication of ideas and inputs through these meets. We saw tremendous benefits in these types of free flowing formats of communication and it set us thinking on creating a more regular medium to enable such communication flow on a constant basis and came up with an initiative called 'Ask CEO'.
Ask CEO: As a listed organization we regularly connect with our investors' analysts and shareholder community through structured and moderated analysts' calls, which is a medium for direct discussion between the stakeholders and the organizational leadership team. We decided to replicate the same format internally and organize calls between the CEO and the employees every quarter, where the staff from various locations (including overseas) connects to me directly through the Ask CEO call session. To promote the concept and enable employees to come forward and participate in the initiative we used teasers and posters, which were put up and sent across the organization before every Ask CEO session. This built awareness and encouraged participation in these calls.

In this initiative our staff can have a dialogue, which is straight and unhindered. There are no "forbidden" professional questions. Employees can take turns to address the CEO and ask questions that directly or indirectly concern them. The questions and discussions range from seeking clarity on strategic decisions or new business areas that the company is exploring to something as personal as an individual grievance or opinions on policies.

While everyone in the organization gets an opportunity to directly understand how their actions could contribute to the larger goals that we are striving for. It also becomes a forum to share success stories and learning from our wins and losses. This initiative also gives me an opportunity to reinforce the direction and key goals that the organization is trying to achieve. This two way live and unedited interaction throws insight into the pulse of the organization and becomes another feedback mechanism to review our people practices. On many occasions it also becomes a source of gathering ideas for continuous improvement or innovation that can be nurtured and built upon.
The unedited transcript of the call is made available on the company intranet to enable wider reach of these discussions to those who missed the call. The practice has found huge response from staff at all levels and in all locations. Every subsequent 'Ask CEO' sessions have found increased participation levels.
The initiative does not end with the call. All functional and units heads are expected to prepare an action plan that comprehensively addresses the issues raised in such calls. The action plans must be closed in a time bound manner since the issues, if not addressed appropriately, will crop up in the subsequent Ask CEO calls and also impacts the effectiveness of these calls.
The benefits of this initiative have been manifold. It has helped establish a direct continuous dialogue with the people across locations through a common platform. It gives every employee the chance to be heard and feel that his/her opinion counts.
The encouraging undertone of these calls pushes individuals to share innovative ideas and helps build upon an innovative thinking culture within the organization. It also allows us to reinforce key priorities of the organization, listen to the people directly, make mid course corrections to people practices and constantly create a social network within the company. I would like to believe that this is a unique initiative that uses the power of traditional form of communication to drive higher levels of staff engagement.
Given the tremendous benefits of these calls we are now exploring ways to extend this concept to other modes, including Leader Chats where employees can directly chat with the CEO on a more regular basis than just every quarter. We could also have calls with other key leaders in the organization to enable theme based discussions, etc.
The highlight of this initiative is that it is simple and cost effective to execute, but, has immense impact on employee engagement and effective communication with our employees.
Above all, it helps me in remaining connected with the pulse of the people and leverages their immense power of thought, frank ideas and individual innovative thinking as a sounding board for advancing the organization further.
(Source: HumanCapitalOnline)
.