Half of us work remotely-when will the rest catch up?
While the chief executive of a global internet company may recently have banned company employees from home working, new research by global workplace provider Regus shows that half the world's workforce is now productively enjoying flexible working.
The 2013 Regus Global Economic Indicator reveals that professionals who are chained to the office desk will soon be the minority.
Regus' research, canvassing over 26,000 business managers across 90 countries, found that 48 per cent now work remotely for at least half their working week. In India, the figure is close, with 47 per cent of executives working flexibly for at least half the week. And as many as 81 per cent of respondents said they managed someone or a team remotely at least some of the time.
Some chief executives may worry about motivating and managing staff at a distance. But in the Regus survey, a high proportion of Indian respondents (70 per cent compared to 55 per cent globally) said they believed effective management of remote workers was perfectly achievable, and a significant portion of businesses are bringing increasing rigour to managing their remote staff.
Regus' survey shows that 61 per cent of companies in India (considerably higher than the 37 per cent global figure) use specific efficiency-monitoring reporting systems, while 47 per cent of remote managers use video calls to communicate with their teams (43 per cent globally).
The flexible work experience can have a particular value for younger workers. Thirty-nine per cent of respondents in India believe that junior employees become more responsible through remote working.
In addition, there is a perception that flexible working is shaping a new kind of interaction between line managers and their team members. Forty-six per cent of respondents think that remote management helps maintain a more professional relationship. A significant number in India, 72 per cent, believe that remote management helps employees to switch off faster after work.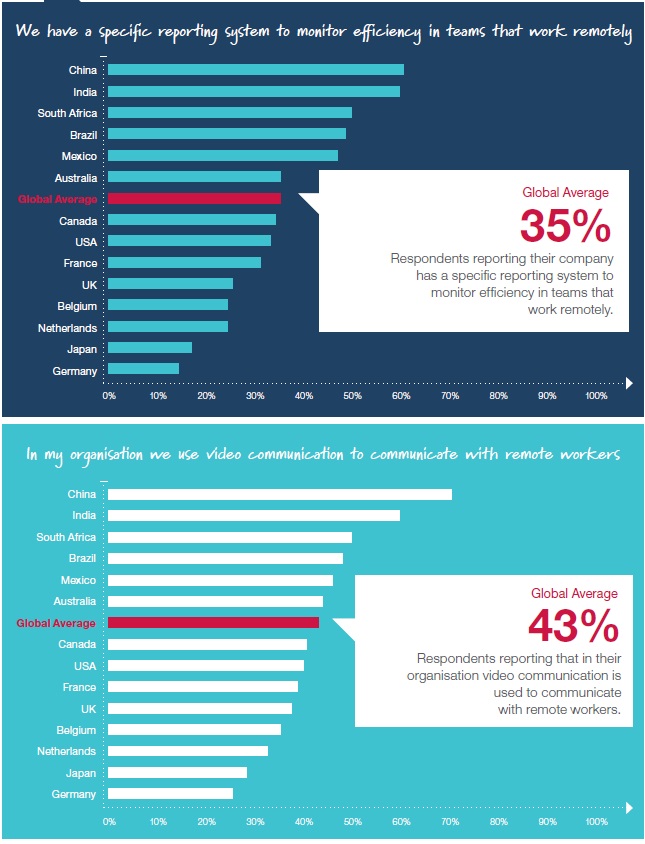 Key findings in India:
• 47% work remotely for half the week or more
• 81% said they managed someone or a team remotely at least some of the time
• 70% say that seamless remote management is an achievable goal, but only if managers undergo special training
• 61% consider trust an important issue
• 61% of companies use reporting systems to monitor mobile employee efficiency
• 47% use video communication between managers and employees
• 46% believe remote management helps maintain a more professional relationship
• 72% believe remote management helps employees to switch off faster after work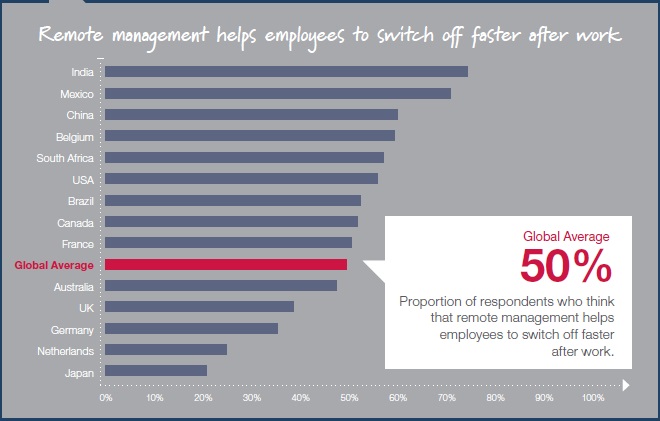 Regus remote management tips:
Regus has helped thousands of companies worldwide to adopt remote working practices. Based on this experience, here are some suggestions for effective remote management:
1. Set clear goals
Remote managers need to manage goals and outcomes, not tasks. Goals need to be clear, and managers must communicate how outcomes are to be achieved. Meeting agendas have to be more focused and outcome-oriented.
2. Make the most of technology
Successful remote working depends on staff having the necessary devices and connectivity (smartphones, tablets etc) and knowing how to use them. Cloud-based applications can facilitate data access or printing, and there are monitoring and reporting applications for remote managers and employees. Regular videoconferencing can help teams become more cohesive.
3. Provide the right workplace tools
Remote workers often struggle to work at home because of distractions and lack of office facilities or meeting space. Providing staff with access to professional workspace, close to their home or near where they are travelling, can encourage focus and productivity.
4. Be overt about the new rules
New ways of working usually demand a revised contract setting out the parameters for both employees and managers. Staffs need to understand not just their goals, but the definitions of 'success' and 'failure', and what availability is required of them. Rewards and sanctions should be clearly set out.
5. Communication is vital
Virtual meetings are easy to arrange with video links and videoconferencing - far easier, in fact, than getting disparate teams together physically. Ensure active participation - with conference calls, in particular, it's too easy for people to 'switch off' unseen. Remote and 'virtual' staff must also feel their personal development is taken seriously, so regular scheduled sessions to discuss progress and performance are essential.
Read The Full Regus Remote Management Report here.
.