HR Branding
| March 04,2014 11:27 am IST
Abstract
We start our day with a morning jog in Nike athletic shoes, we go to work dressed in a Raymonds suit in a new Accent car, and stop along the way for having a cup of coffee at Cafe Coffee Day.

These aren't mere shoes, clothes, cars and coffee we are talking about.
These are brands, and chances are you have to choose them not only because they meet your basic requirements of clothing, transportation and sustenance, but also because the brands promise a certain quality and style that you've come to rely upon. Great brands provide a source of identification and assurance of quality. These brands simplify decision-making and communicate the value they create for their customers. And great brands make and keep their promises. These characteristics differentiate great brands and cement their leadership credentials.

Branding in HR has traditionally been limited to the employment function. The HR branding has become a topic of great interest. The importance of mastering the concepts and skills behind branding have greater implications for HR professionals in the "new economy".

The success of an organization relies upon excellence in execution. Historically, corporate leaders have looked to other functions, such as product development, marketing and sales, to drive corporate success, today more and more eyes are looking towards HR as the call for need.

Success of the brand depends upon of awareness and relevance. If target audiences are not aware of the brand, if their internal and external customers don't notice your effort in the cacophony of messages they receive each day, then we will never have a chance to be relevant. And if they become aware of you, if you capture their attention and fail to deliver relevance, then they will learn to ignore you.

In this paper, we give an overview of the importance of branding, steps involved in building a brand for the HR department. In this paper, we have also described the importance of creating a brand for the HR department to attract, motivate and retain the best and brightest in order to survive in the competitive world. Then we have analyzed the various sub systems of HR brand system which serves as the Unique Selling Proposition (USP) of the company to grow in a big way in the long run.

Introduction
Customers differentiate firms by their products. Marketers have traditionally used "The 4 Ps" (product, price, position and promotion) to set the products of their firm apart from those of the competitor in the market place. Employees now differentiate their jobs by HR branding .The 4 Ps of HR are People, Pay, Position and Prospects.

As the functions of HR started spreading across the organization, the services rendered by the HR department to the employees can be treated as the same thing as selling services to the external customer. Hence, the HR department should care about its brand identity.

For a company to be successful, it has to attract, motivate and retain the best and brightest, making it competitive in the race. As organizations are complex, open systems, single interventions are not enough. The best organizations have compelling people strategies that are perfectly aligned with the organization's business strategy. Once the people strategy is aligned with the business strategy, you can begin creating a great place to work. The HR brand has to be aligned congruently with what the company delivers to the employee, customer, public and shareholder.

In today's knowledge driven economy, HR plays a strategic role in bringing in the right kind of people into the organisation. In a sense, HR is the first face of an organisation for a new prospective employee. Market research has revealed that strong brands contribute to strong competitive presence. In this way, the HR in its new avatar, the importance of branding HR follows quite as a corollary.

The challenge faced while structuring the brand is to establish new deliverables to sustain strong partnerships with both internal and external customers. The ability to see the big picture and to deploy the resources to address to this big picture will be more important than ever, based on the interactions of HR department with both internal and external customers.


The brand 'HR' can be well built by concentrating on the factors, which directly or indirectly influence the expectations of an employee. HR department should take decisions that would not discourage employees from being aligned to the brand behavior.
Initially, we have to build a brand internally that is possible by making high participation of internal customers in benefit plans, training programs and company functions. Greater the acceptance of performance plans, compensation programs, and policies and procedures, employee assistance programs, meditation services lead to higher satisfaction ratings on employee attitude surveys.

If an organisation wants its brand to be perceived as more strategic, more valuable, more reliable, one needs to think about what internal and external customers expect from them, how well they can deliver it, and how to progress. This isn't achieved by fancy packages, catchy slogans and name changes, either. This is achieved by thinking like a business with a product to be developed, marketed and reliably delivered to customers who want your services.

Rise in Importance of HR Branding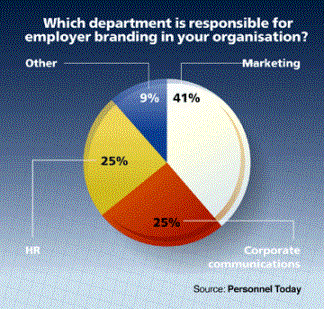 Brand as a System
We can consider brand as a system. The brand system has four components which are inextricably tied and interdependent.


Offer: It is the service or a group of services that the brand renders to its customers, and if the offer is complex or it is difficult to explain, then it would be very difficult to communicate the offer to the target segment. Hence, the offer should be clearly described for a brand to be successful. Example: Compensation packages, Training programs, Employee assistance programs, a good working environment, etc.
.