HRD Project - Designing a Computer Awareness Training Program for employees of a Nationalised Bank
It has been observed under many situations in Nationalised Banks that the employees in the front office handling the day to day operations like transactions, database management etc often face many problems which are generally trivial in nature and quite basic in troubleshooting for e.g. If a file is hidden then it is difficult for them to retrieve the path of the file and they often think that the file is deleted or someone has misplaced the data.
To overcome such problems we are designing a training program which will cater to the needs of such employees and hence lead to overall customer satisfaction and increase in the efficiency of the bank.
Presentation:
Computer awareness training program for the employees of a nationalized bank
Steps in the Training Program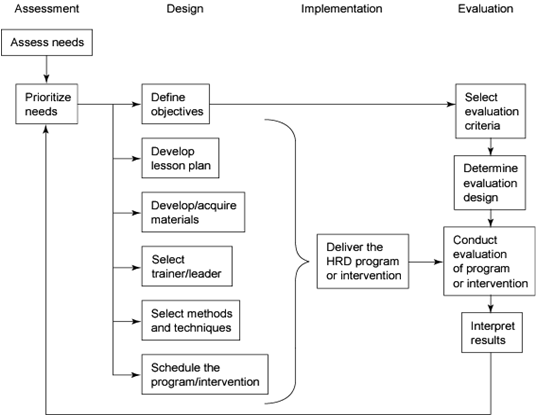 Needs Assessment

Troubleshooting required is basic and trivial in nature.
Mainly related to front office operations.
Issues brought under light after the interviews conducted for the employees of the bank.
A number of account holders have shifted to private banks because of better customer satisfaction and delay in transaction processing.

Objectives of the training
The trainee should be able to troubleshoot the problems related to internet/ intranet, computer software and hardware.
The trainee should be able to install printer, scanner and other peripheral devices.
If the accounting software fails the trainee should be able to access the database immediately so as to continue banking transactions.
He/She should be well aware of the Standard Operating Procedures (SOP's) in case of network failure from the main head office.
After the completion of the training program the trainee will identify the basic troubleshooting problems related to his system and will accurately solve them without hampering work for a long time.

Identification of employees for the training program
The Self-Appraisal Form
The Manager Review Form

Lesson Plan
The Content to be covered.
How to sequence the various activities.
Selecting the training medium.
Select or develop exercises based on the trainer's experience.
The method of training to be used.
The evaluation process after the training.

Training Schedule
Should not hinder day to day operations
Trainees with family and other obligations
Tired employees
Time of training is very important
Training schedule

Training Method
Instructor led Classroom training program.
Theory duly supported with practical demonstration of problems.
Certain training programs suited to achieve a particular objective . For e.g. Interpersonal skills
Time and Money availability.
Availability of other resources. For e.g.. SAP or ERP training require extra resources.
Trainee Characteristics and preferences.

Training Materials
Handouts
Visual aids like snapshots and power point presentations.
Course manuals containing the required theory.
Practical demonstration of the troubleshooting problems in the class so as to directly apply the concepts learned.

Basic Hardware Information
Case
Power switch
Reset switch
Hard drive
Floppy
CD/DVD
Zip drive
Serial ports
Parallel port
USB port

Keyboard/mouse
Network card
Modem
Sound card
Video card
RAM
Motherboard
Bus
Fan
Cables
Course Content related to Troubleshooting
Illegal operations like:-
Memory conflicts (bad memory)
Dirty CD or corrupt files on a floppy
Highly fragmented hard drive
Corrupt files (Windows or another program)
Virus or spyware
New hardware (possible driver issue or setting conflict)

Slow Computer
Check free space on your hard drive
Run scandisk (possibly corrupt files)
Too many processes (possibly spyware) running in the background
Computer overheating (check fan)
Recently installed hardware, software or updates?

Program not responding
Bugged software
Conflicts between hardware or software
Lack of system resources (memory, hard disk space, too many active programs)

Computer lock-up situations
No mouse control? Do you have keyboard control?
You can check by pushing the caps lock or num lock keys on your keyboard and seeing if the corresponding lights respond.
Have keyboard control, push CTRL-ALT-DELETE at the same time to access the task manager.
End the program that is "not responding" in the task manager.
Save anything you are working on and reboot the computer.
No keyboard control? Hold the power button in for a few seconds.
Computer Backup
Keep the files you want to backup in a central location. Use My Documents. One can easily backup the My Documents folder using Windows Backup tool.
Be aware that if you want to backup your entire system you'll need a large capacity storage device.

Computer Spyware/Adware Symptoms
Computer suddenly slow.
Unknown icons in your windows system tray (the lower right corner)
Modem lights blinking when you aren't doing anything online.
Pop up windows when you don't have any programs running

Some Healthy Computing Habits
You should make a backup of the data when you do not want to re-enter everything you have entered since your last backup. (Schedules can range from every item to months.)
You should regularly check that your backups work.
Multiple backups and off-site backups are often required.
Anti-virus software.
Regularly updated virus definitions for the anti-virus software. (Automated if available.)
Current security patches applied to operating system and applications.
Scrutinize any unexpected attachments that are e-mailed to you. (Particularly ".vbs" and ".exe" files.)
Troubleshooting related to a Network
Restart
Try another Internet Based Service
Check the connection from another computer
Ping
Check the network Neighbourhood
Reboot the router
Reinstall the TCP/IP protocol

Windows networking
Open up the Network Icon in the Control Panel
You want to see "File and Print Sharing for Microsoft Networks" below the protocol(s)
If not, click on the File and Print Sharing button.
Click on the options you want to enable then on the OK button.
You will need to wait while Windows installs the drivers
Click OK to exit the network control panel and reboot the system.

How to share a directory
Open up the Explorer
Right click on the directory you want to share and select Sharing
Type in the Share name
Select whether Read, Full or Depends on Password
Type in an agreed upon password.
Click OK to begin sharing

How to Share a Printer
Open the printers window (Start, Settings, Printers)
Right-click on the printer and select Sharing
Type in the Share name
Select whether Read, Full or Depends on Password
Type in an agreed upon password.
Click OK to begin sharing

Accessing a Shared Resource
Double-click the network neighborhood
Open the person's computer, the users' shared items should appear
If the resource is printer, right-click and select install
If the resource is a directory, simply double-click to access contents

Evaluation of the Training Program
Reaction
Learning
Job behaviour
Results

Feedback Form
Critical for evaluating the success of the training program.
Helps to know whether the goals have been achieved.
Very important for organizations competitiveness.
Whether employee is practically applying the training undergone.

Evaluation of training costs
Cost Benefit Analysis: Compares the monetary costs of training to the benefits received in the monetary terms, such as improvements in attitudes, safety and health.
Cost – effectiveness Analysis: Focuses on financial benefits accrued from training ,such as increase in quality and profits and reduction in waste and processing time.

Robinson and Robinson Model
Direct Costs
Indirect Costs
Development Costs
Overhead Costs
Compensation for participants
Embedded Scribd iPaper - Requires Javascript and Flash Player
Feedback Questionnaire
Training Title: Computer Awareness Training Program We would like to know your reaction to this program?. Your thoughts will help us provide the best possible modules. Thanks For your Help. Please Rate the following Statements on a Five Point Scale by putting a tick against the statements under the appropriate Ratings. 1= Strongly Disagree, 2 = Disagree, 3 = Neutral, 4 = Agree 5 = Strongly Agree Overall evaluation of the program: Did you enjoy the course? The content was well organized. The concepts were explained with easy to follow examples and situations Did I participate in Training with full enthusiasm? Did I learn what I needed to, and did I get some new ideas? Will I use the information and ideas? Do I think that the ideas and information will improve my effectiveness and my results?
1
      
2
      
3
      
4
      
5
      
Please Rate the following Statements on a Four Point Scale by putting a tick against the statements under the appropriate Ratings 1= Very effective, 2 = Good, 3 = Not very effective, 4 = Not effective
Overall evaluation of the trainer Knowledge Preparation Style & delivery Responsiveness to group Encouraged participation Learning Climate
1
     
2
     
3
     
4
     
What is your learning from the program?
-----------------------------------------------------------------------------------------------------------------------------------------------------------------------------------------------------------------------------------------------------------------------------------------------------------------------------------------------------------Please Rate the following Statements on a Four Point Scale by putting a tick against the statements under the appropriate Ratings 1= Very Good, 2 = Good, 3 = Average, 4 = Poor, 5=Very Poor Overall evaluation of the Venue: Stay Arrangements Facilities Food Training accommodation 1
   
2
   
3
   
4
   
5
   
Suggestions for such Development Programs in future: …………………………………………………………………………………………………… …………………………………………………………………………………………………… …………………………………………………………………………………………………… …………………………………………………………………………………………………… ………… Name (Optional): ______________________ Date:
Thank You
Complete this column 6 weeks to 3 months after completing the training:( You have to carry this form with you and return after filling it to the PERSONNEL DEPARTMENT after 6 weeks to 3 months.) 1. Comment on the degree to which the training met your objectives: All objectives met by training.  Most objectives met by training.  Some objectives met by training.  Few objectives met by training.  No objectives met by training.
2. Comment on the degree to which you have used the skills you have learnt: All skills learnt used on-job.  Most skills learnt used on-job.  Some skills learnt used on-job.  Few skills learnt used on-job.  No skills learnt used on-job.
3. Comment on difficulties encountered in applying new skills back on the job: lack of opportunity to use skills .  lack of time for use skills.  Skills learnt were not relevant.  Lack of coaching or feedback.  Other(please comment).
4. Please state any reasons other than above.
Name (Optional): ______________________
Date:
Thank You