Human Resources Management - A New Prospective
From the very early days of personnel administration, human resources management has emerged as a powerful and active participant in organizational development and decision-making but during those days it detailed on hiring, firing and tracking of personnel and reporting on present and to very small extent on past..
"The added value is perceived to be involved in company strategy, and manager and employee support." So the HR professionals must spend their time on defining new strategies that will make employees more knowledgeable and improve a company's bottom line: instead of performing HR processes, they must start managing HR processes. This is outlined in the Balance Scorecard Methodology, which has been developed by Dr. David Norton and Dr. Robert Kaplan of the Harvard Business. This process essentially allows an organisation to align and focus its resources on its strategy and tries to link the vision and strategy to employees' everyday action. It tries to establish a balance between the outcomes and the performance indicators. The employers analyze the services beforehand, decide on key performance indicators, and evaluate those later, based on more current figures. During the decision making process, benchmarking of business processes serves to agree on a base line that can be evaluated at regular intervals, making it possible to adjust processes if necessary. Benchmarking is also used to compare the results with comparable companies or the industry. This comparison results in an overview of most important processes or services to improve.

Today by and large, HR continues to balance the demands of several different roles: business partner, internal consultant, operational and administrative expert and both employee and employer advocate. This dilemma is resolved by making employees self-sufficient, thus easing out their workload. In order to fulfill their new role, HR departments must change the way they deliver their services. This can be accomplished with the help of employee self-service and shared service centres. HR processes must be evaluated and streamlined, ensuring that employees can carry out tasks and transactions in a self-service portal that is connected to the back-office. HR call centres could be established to screen and handle employee calls through a first and second line help desk. This can be briefly seen from the ARINSO HR Value Model. This model summarizes the role of HR as the combination of Strategy, Services and Administration. With increased stress on the strategy part, the administration and a part of the services is being partitioned to Employee Self Service scheme and some part can be dealt with by the concept of shared services (probably in the near future). The model is in the form of a pyramid categorized into three parts representing Administration, Services and Strategy from bottom to top. A major part of administration could be handled through self-services and shared service (a possibility in near future) and a part of services could also be handled as such, thus the shift in attention towards strategy is inevitable.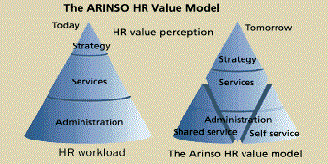 The ongoing challenge is to establish new deliverables and to sustain strong partnerships with both internal and external customers. This accounts for the shift of HR from traditional transactional issues (like benefit administration, record keeping, employee services, communication) to transformational issues (like strategic planner, organizational development and knowledge management).
Concluded.
Contributed by -
Rutayani Mishra,
XIM Bhubaneswar.
.