Managing the Work-Life Balance
The composition of today's workforce is much more complex. Dual income families and single parents with dependents are the norm.
"Our lives are becoming increasingly complex with every passing year. We have more choices, more opportunities and more demands placed on us," says Clutterbuck, whose latest book is Managing the Work-Life Balance.

The face of the workplace has changed dramatically as we head into the 21st century. Today's workers are better educated, increasingly mobile and are seeking empowerment. This, together with tremendous leaps in technology, increased competition, and globalization has created a new workplace reality, which bears little resemblance to the work order of the past.
The workforce is having difficulty balancing work-life activities. Whereas one individual bore the burden in the past, the responsibilities are often shared between two working individuals today. Both feel the pressure to balance work and family life - and squeeze in some time for themselves.
In industries, where the labour market is competitive or skills are scarce, offering employees benefits that extend beyond basic statutory requirements can help a company stand out from the crowd.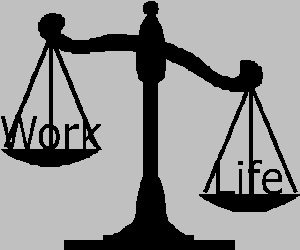 Although very slightly touched in class, work-life balance is viewed as a strategic component of the package offered to the employees, as in the workplace of the future, many employers are realizing that the only constant competitive advantage they will have is their people - their intellectual capital. Organizational success depends on people. People have multiple responsibilities, diverse needs, and often, conflicting priorities. Leading organizations need to attract and retain the best people. People need work experiences where they can reach their full potential, be fully engaged, and be able to meet their personal and professional goals and objectives.
What is Work-Life Balance?
"Work-life balance was coined in 1986 in reaction to the unhealthy choice many were making in favor of the workplace, as they opted to neglect family, friends and leisure activities in pursuit of corporate goals," according to the Work-Life Balance Centre, a Newton Burgoland, Leicestershire, U.K.-based think tank and council dedicated to helping workers gain control of their workloads.
Since the late 1980s, achieving work-life balance has become a concern and goal for businesses, industry and governments worldwide.
When one stops to consider the different areas of life, there are several that require thoughtful attention. If one thinks about it in terms of a pie-chart, each of these areas makes up one piece of that pie, such as Career, Relationships (spouse, family and friends community, colleagues / networking), Spirit (religion / spiritual development), Body (health and fitness), Mind (personal development and lifelong learning), Physical environment (home, office, or car), Finances & Fun and Leisure.
There is a great story. It goes something like this. There was a man who visited a circus. When he saw the clown balancing several objects simultaneously, he was so impressed he sought out the clown after the show. The man asked the clown how he managed to keep all the objects in such perfect balance. The clown replied that he wasn't balancing the objects at all; he was trying to keep them all from crashing to the ground.
The moral, of course, is that balance is not a perfect state. There are always little fluctuations going on to maintain what appears as balance.
Balance means that nothing is absolutely static and unchanging. One can get out of balance for many reasons: -
• Priorities and circumstances change.
• Resentment builds when you habitually work long hours, forsake leisure time and neglect personal goals.
• One might be trying to fit in with someone else's definition of a 'good' lifestyle.
• Having work-life balance thus means that one must also be able to make the decisions about what one is going to do in any given moment.
Creating the Balance
To encourage work-life balance in any organization, the following strategies could be used: -
1. List down all the programs and services in place at the organization that support work-life balance. A variety of tools exist to help the manager in this front. The National Work-Life Initiative based in Arizona, U.S., has created Categories of Work-Life Effectiveness, a basic tool that guides you through the audit process. A more detailed assessment tool is available from the Boston College Center for Work & Family. The Excellence Index is useful for organizations just getting started and those that want to assess work-life efforts over time or across departments. This inventory will reinforce what you are doing right and will also reveal potential areas of weaknesses or gaps.
.