Organizational Restructuring: Challenges & Opportunities
Organizations are organic communities operating in complex eco-systems which force them to evolve and innovate on a continuous basis in order to survive. Faced with these dynamic and ever-changing pressures of the operating eco-system in terms of emerging market-spaces, fiercer demands on cost controls, organizations and businesses are resorting to enhancing their competitiveness by restructuring or streamlining their operations.
If we view restructuring under the cause-effect paradigm, it can be seen as the most natural response to the various external and internal stimuli which guide business. Although these adaptations are crucial components while an organization pursues to exploit opportunities, they produce wide-spread disruptions and confusions as is common with any change. And like every change, it provokes much skepticism and many questions.

Restructuring - Old Wine in a New bottle?
"If you don't know what to do, reorganize, it looks like you're doing something."
- Anonymous
Reorganization or restructuring per se is not typically an effective way to improve efficiency or performance - although there may be a short term improvement as a fall-out of the natural change curve where people are jostling to increase their sphere of influence and trying to impress, but this is usually followed by a downturn.

Many improvement efforts fail because the organization is not properly geared to support the processes being implemented. In many cases, however, a restructuring simply involves publishing a new organization chart without the critical definitions of the new roles, responsibilities and interfaces. Therefore, before a firm decides to go for restructuring, it needs to first understand its own expectations and objectives through this exercise. Most importantly, make sure the internal processes accommodate the changes and the communication base is prepared to sensitize the various stakeholders.

Restructuring Vs. Realignment
Understanding restructuring is vital for the success of the intended objectives as sometimes restructuring is simply taken as a re-alignment exercise. Realignment might form a part of the series of changes that restructuring introduces and this is an important aspect as nomenclature at times also creates confusion.

The difference between Restructuring and Realignment resides in the purpose and the complexity of the two activities.

Restructuring is a cost saving activity undertaken to either boost a sagging business or improve market competitiveness. Restructuring, done correctly, allows a business to reinvest in the next growth area. One can get a more lucid idea about restructuring if we take into account Mintzberg's classification of organizational structures in terms of the mechanism of coordination and the components of an organization.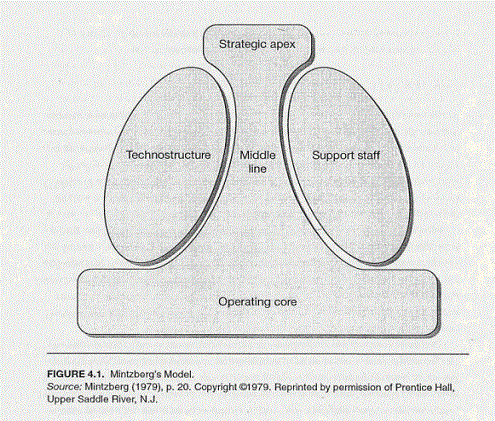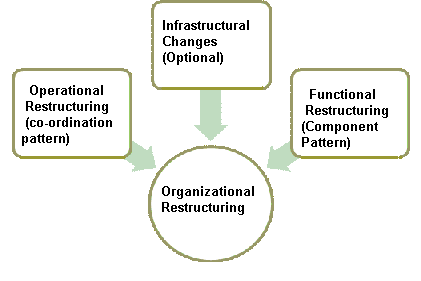 Mintzberg described five mechanisms of coordination; coordination by mutual adjustment, direct supervision; standardization of working processes, of output and skill. He also discerned five interacting components of an organization namely Strategic Apex, Operating Core, Middle Line, Techno Structure and Support. Any alterations made in the configuration of the organization through changes in the sphere of influence and authority of its governing or participating components and the way they coordinate can, thus, be termed as Organizational Restructuring.

As immediate repercussions restructuring may also involve infrastructural changes, down-sizing, closing down unprofitable businesses and internal mergers. These options would be exercised as dictated by the overall organizational strategy and requirement.

Realignment, on the other hand, is an investment activity to gain efficiency and performance. Realignment is designed to take a business to the next level through greater collaboration and targeted market focus. It is about bringing in greater efficiencies into the relationship between the different stakeholders by integrating and striking a balance between the organizations activities, internal processes and resources. Sometimes restructuring will fund realignment and employees will be asked to take on new roles and responsibilities.

Smart leaders support these transitions with investments in employee training, recognizing that "re-skilling" existing employees often shortens business transformation and save expenses.

In any event, leadership needs a strong strategic and tactical plan that is clearly articulated and understood with a rewarding role for all employees to help the change settle in.

Overcoming Organizational Inertia
Changes, which are introduced in an organizational restructuring, are bound to affect the socio-psychological make-up of the organization members given the kind of uncertainty that may accompany such changes. There is a need to understand better the consequences of organizational restructuring and consider some of its likely side-effects on the work environment. Employees in a post-restructuring context are justifiably wary about the future direction of the organization and their roles within it.

Research has corroborated the fact that trust and satisfaction with working in the organization indeed declined significantly when compared to pre-restructuring level and that there was a negative relationship between both work satisfaction and trust with the extent of change required of employees.

Thus, the need for strategic decision-makers to consider the social impact of organizational restructuring is critical. Senior leadership must realize that both trust and work satisfaction are important ingredients for the effective functioning of an organization and to actively ensure that support systems are prepared and accessible to alleviate the negative impact, particularly if the changes to be implemented are extensive.
.