iBall Edu-Slide tablet dedicated for Education developed by group of IITians launched
iBall Edu-Slide Tablet PC, the first computing device in India dedicated for education is launched. The educational content powering Edu-Slide has been developed by a group of IIT-ians.
iBall Edu-Slide is offered with 25.6 cm (10.1") big screen. This is based on various findings and tests which bring out the fact that bigger screens are suitable and ideal for students.

The product is the result of the thought when the various facets of entertainment can be made more and more interesting for all, why not those of education? At a time when tablets are assuming increasing importance in lives of students and professionals alike, iBall, one of the Indian technology giants has launched iBall Edu-Slide –specially designed and dedicated to the education of students.

The offering naturally has two major components "the Tablet PC" and "the content". To make it the most ideal for the students both aspects have been given the maximum attention.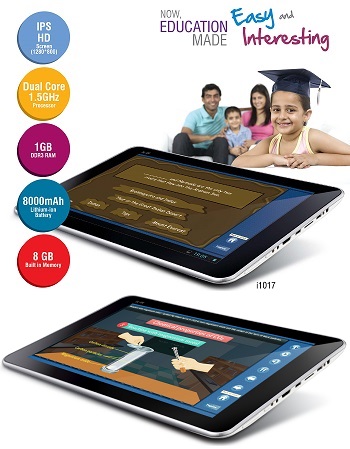 The content by e-Teach is created by a group of IITians who had been working for over last 5 years to bring something really useful for students. This product is brought out with an objective to change the dynamics of the Indian education system with the use of digital media devices. Visual explanations of scientific processes are always going to be a treat to learn with.

Various findings and tests bring out the fact that bigger screens of minimum nine inch and above size are ideal for students hence this Edu-Slide informed iBall. Based on this requirement for students, iBall Edu-Slide is presented with 10.1" screen size to ensure the product is ideal for the student requirement and is loaded with absolutely high technology for smooth and terrific performance.

Its dual core processor (Cortex A9 with 1.5 GHz) and G400 mali graphic processor and 1 GB big RAM gives the stunning and seamless performance for the animated content for education and will keep the young users hooked onto the subject when they open their text books next.

iBall Edu Slide i1017 is a 10.1-inch HD screen tablet PC with high resolution HD screen (1280*800) and with IPS technology to make it absolutely perfect for the students.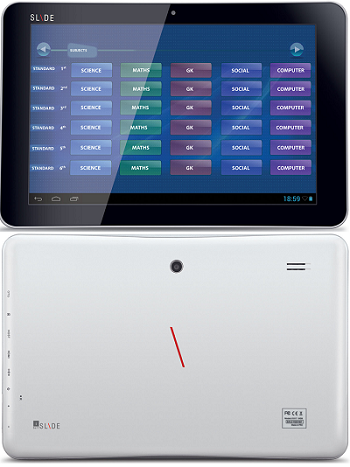 The IPS screen gives the ease of using and holding the tablet in any angle for clear viewing. It also provides very smooth touch and feel to enjoy the learning on the Tablet. Latest Android 4.1 Jellybean OS is loaded with an educational software content eTeach.

iBall Edu-Slide powered by eTeach, has been designed so to make learning more engaging and fun for every student – from Standard I to XII for both CBSE and ICSE in English medium as per the curriculum.

Alternatively, the educational content is also provided on a DVD for Windows OS to be used on laptops and desktops. Students will have easy access to tests and question banks, which are evaluated on a real - time basis providing users a platform to gauge one's own performances.

One of the brainchild's behind Edu-Slide, Mr.Sandeep Parasrampuria said, "We're entering with a motive to complement our education system, not replace it. There is a dearth of quality content in this sector and with increasing number of tablet users, now's a great time to present iBall Edu-Slide powered by eTeach. Our goal is to make optimum utilization of the technology enhancements and create an environment where education is made easy and interesting."

Along with the customized educational software that iBall Edu-Slide provides, parents and students can download various education apps, books and games from the Android market which can further enhance their learning experience. Photography of important text notes as well as video-chatting with mentors is possible thanks to the 2.0MP rear camera and the VGA front camera.

The product has already received very good response and is on the cusp of changing and moulding several futures of the country. iBall Edu-Slide is now being launched all over India as well as in Andhra Pradesh having a best buy price of just Rs 13,999 with 1 standard education content included. The iBall Edu-Slide Windows CD will also be available with a best buy of Rs 3999/- having 1 standard education content.

As we are nearing the end of the academic year, iBall is providing a limited period offer of an additional standard content to be provided for free with both iBall Edu-Slide i1017 tablet PC and Windows CD.
.