Commodity Branding
| March 10,2014 12:24 pm IST
Executive Summary
Today what rules? A single word, "BRAND". Brand not only is a differentiator but also a value creator for a product.
It creates a space in the minds of the customer which has been blocked & clogged with various desires, wants and means. Brand has been like a light-house in the ocean of in-differentiable products giving rays of assurance of quality, dependability and value. It also acts as a direction provider for the customers to choose the right path in obtaining value for money.

Today's world is moving towards lesser and lesser differentiation in the products due to technological developments. This development has reduced the competitive advantage of various companies who earlier had a concept of power brands. Day by day we are moving towards a world which is in-differentiable product rules with the only parameter of differentiation - price.

We have been living in a world dominated by brands like 3M, Coca-Cola, Pepsi, Gillette, Whirlpool, etc. But in today's dynamic scenario, we are talking about not the power brands but the commodity brands, due to continuous reduction in differentiation. The concept of commodity branding posts new and exciting challenges with the modern business managers. The challenges being a collaborative strategy of cost leadership, differentiation and price sensitivity clubbed towards a single goal of making commodity a brand.

In this paper, we the student managers had taken up the challenge to evaluate the concept of commodity branding and its various challenges like lack of customer awareness, lesser ability & willingness to pay and unarticulated & latent wants. The report has targeted the commodity at few places as paper, the reason being itself a commodity product in Indian context. The biggest challenge faced by the commodity brand is the clogged customer mind and his diffused decision making process. We have tried to develop strategies to hit the exact point to create a differentiated image of the commodity brand in the customer's mind.

The various concepts evaluated in the process of trying to understand the process of commodity branding are complex wants generation, decision, making process, customer behavior at retail points and various approaches towards branding. We have tried to formulate implementable strategies to establish a commodity as a brand.

Introduction
Paper has been in use for time in memorial. Paper is one of the things which was not only a part of the human evolution but also recorded its evolutionary phases and his achievements till now.

But still we find people are not aware of what importance the paper as a commodity product has. A just look around in our day to day life would be enough to prove its significance. Paper is there right from your wallet, to your desk papers, your academic achievements to your means to express your feelings and emotions to your near and loved once.

Thus this paper would be looking at the various branding strategies and the present problem identification to give the paper as a commodity product a brand push to increase the sales.

Corporate Strategy Analysis
A fundamental responsibility of corporate management in a commodity product business is to continuously position the enterprise to exploit the changing market environment. Management must monitor and asses the dynamics of the market place.

Following are the various analyses that we need to do to arrive at a better competitive strategy: -
• Customer Analysis:
To establish a strategic edge over its competition must define the broad market it intends to serve, segment the market and identify the specific segments it intends to concentrate upon. The customer analyses are essential for the complete competitive strategy development and it includes Defining the market place, Market Segmentation.

• Competitive Analysis:
The competitive analysis begins with an examination of the structure of the industry. This structural overview provides insight into the attractiveness of an industry and the competitive rivalry.

• Internal Analysis:
A critical assessment of a company's strengths and weakness can be a painful process for management. It forces managers to identify things as they are in terms of Performance analysis.

• Environmental Analysis:
Environmental analysis is concerned with identifying trends, opportunities, threats and limitations that will affect and influence a firm's strategic position.

Customer Wants and their Buying Process

Nature of wants
To want a particular product is to have a disposition towards using, consuming, or processing that product. Wants are always identified in terms of a disposition to some action.

Implications of the nature of wants

• The consumer of the paper is not always conscious of his wants until some stimulus, like advertising, facilitates recall or activates the want These wants are known as latent wants.
• Consumers have many a time unarticulated wants and this is more relevant when we are talking about the commodity product such as papers. People are not able to quantify what they want.
• Active wants weigh the feasibility of satisfying want. A consumer will always look for a feasible and affordable product. We can assume that the want for quality paper at a good price or in short the value for money can be adopted as an active want.
• An individual customer's want can be described as a "cluster concept", that is, a want can be thought of as a cluster of attributes not all of which must be possessed by an offering for the consumer to feel the want is being met.

Purchase Decision Making and the Individual Customer
It is important in commodity market to understand and manage the customer for competitive advantage. The general purchase or the nature of the purchase decision can be better understood by this diagram.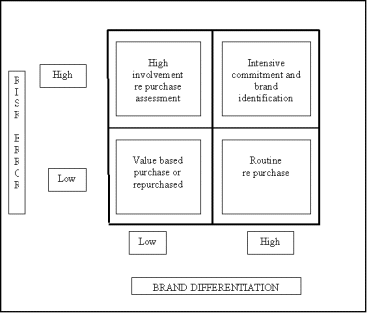 Nature of the purchase decision

Consumer Behavior at the Retail Point
In this we will try and understand the decision making process of the consumers of paper products at the retail point.

.