Destination Branding
| November 08,2011 05:47 pm IST
Destination are the places that have some form of actual or perceived boundary, such as the physical boundary of an island, political boundaries, or even market-created boundaries.
Types of destination:

jpg">
Destination Image:
The visual or mental impression of a place, a product, or an experience held by the general public (Milman and Pizam, 1995).

It could be both Organic Images formed by individuals themselves through such things as past experiences with destinations, and through unbiased sources of information (e.g articles, travel blogs etc.), or Induced Images created through information received from external sources, including destination advertising and promotion. It is during this induction of destination image, destination branding comes handy.

Destination branding
Destination branding is about consumers' perception wrt a destination. It tries to differentiate and communicate the uniqueness of a particular destination wrt to similar destinations. It is about combining all things associated about a place ( tourist spots, culture, people, art, technology etc) and selling them together as a unique brand to the tourists so that their belief about the place change, and the destination find its place in their itinerary.

Components of Destination Branding
Destination Branding is not only about the logo or slogan. It incorporates many components that work together to form the destination brand concept. Their management is part of the brand strategy. The components are identity, image, personality, essence or soul, character and culture. Details are in the following figure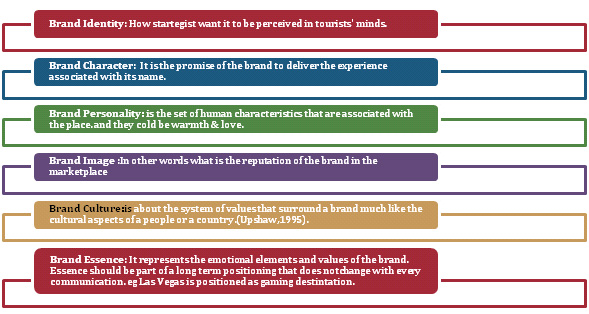 Phases of destination branding:
The destination branding process starts by assessing what a destination's assets are and focuses on how best to present these to each customer, as the assets are largely inherited not manufactured.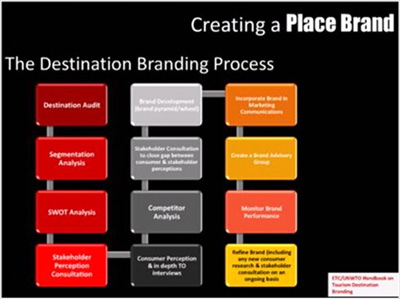 Phase 1: Market investigation, analysis and strategic recommendations: First of all, destination audit is done, and here prioritaztion of assets is done. During this phase SWOT of destination, segmentation analysis of the key consumers is done.
It drives the brand development. Also, key stakeholders are also identified and qualitative in depth discussions with them is carried out to understand the perception of key stakeholders and visitors perception.

Phase 2: Brand identity development
The brand pyramid is a tool that builds up a brand logically from an assessment of the destination's main strengths to a distillation of its essence.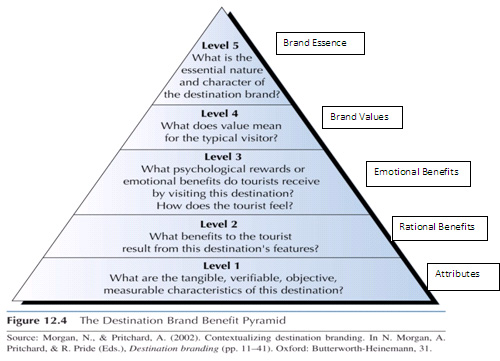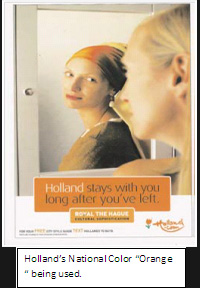 Phase 3: Brand launch and introduction communicating the vision
It involves the integration of brand with marketing activities, where we are clear about the strategic message that need to be communicated via various online and offline mediums.
Phase 4: Brand implementation: The various strategies that are implemented to make the brand a success are the part of this phase.

Phase 5: Monitoring, evaluation and review: It involves the periodic review of the campaign.

Hence destination branding process should be a virtuous circle: the 'final' stage, in which brand impact is monitored, informs any refinements that are needed. These are then incorporated in a 'new stage 1', in which the brand pyramid is revisited and its relevant elements revised.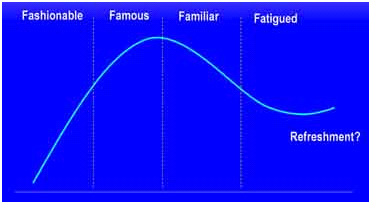 Challenges of Destination Branding resulting in making the destination forgettable.
• Lack of funding
• Image without cliché. At times, to get away with the past negative image of the place is really a challenge.
• Destination marketers have little control over the destination mix they are branding, Besides this, creating differentiation about the destination at times gets difficult.
• Various organizations are involved in crafting and delivering on the brand, and getting a sync between them is a big challenge.
• Lifespan of the brand, as in when is strategy needs to be refreshed or completely changed.
Concluded.
.