Go Green... How?
Place
The choice of where and when to make a product available will have significant impact on the customers you attract. Very few customers will go out of their way to buy green products merely for the sake of it.
Marketers looking to successfully introduce new green products should, in most cases, position them broadly in the market place so they are not just appealing to a small green niche market.

The location must also be consistent with the image you want to project and allow you to project your own image rather than being dominated or compromised by the image of the venue. The location must differentiate you from your competitors. This can be achieved by in - store promotions and visually appealing displays or using recycled materials to emphasize the environmental and other benefits.

Promotion
Promoting products and services to target markets includes paid advertising, public relations, sales promotions, direct marketing and on - site promotions. Smart green marketers will be able to reinforce environmental credibility by using sustainable marketing and communications tools and practices. For example, many companies in the financial industry are providing electronic statements by email.

e - marketing is rapidly replacing more traditional marketing methods, and printed materials can be produced using recycled materials and efficient processes, such as waterless printing.

Retailers, for example, are recognizing the value of alliances with other companies, environmental groups and research organizations when promoting their environmental commitment. To reduce the use of plastic bags and promote their green commitment, some retailers sell shopping bags, for example those produced by Landcare Australia, Clean Up Australia and Planet Ark, under the banner of the Go Green Environment Fund.

The key to successful green marketing is credibility. Never overstate environmental claims or establish unrealistic expectations, and communicate simply and through sources that people trust.

Promote your green credentials and achievements. Publicize stories of the company's and employees' green initiatives. Enter environmental awards programs to profile environmental credentials to customers and stakeholders.

Lastly... same question How???
To take advantage of the emerging green market, it is important to understand who green consumers are and the factors influencing their purchasing decisions and behaviour.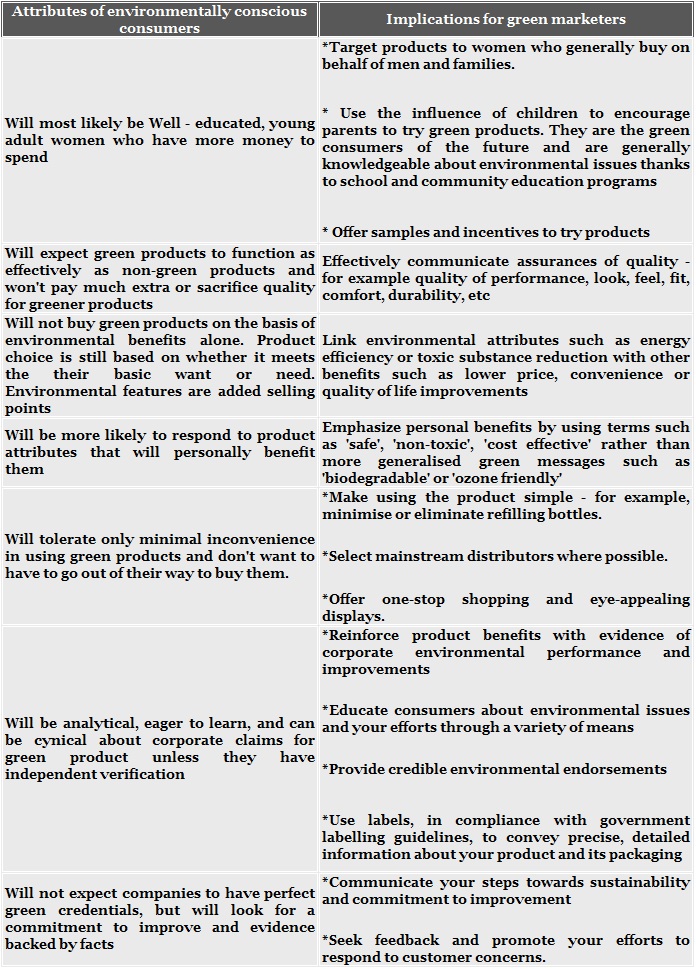 Natural products have a potential to be associated with individualism. The only thing required is to pick the right ambassador for them. Not just the usual glamour and fame but blazing individualism, and self belief to go against the crowd. For example Angelina Jolie for Khadi. Wouldn't that make the Versace wannabes do a U-Turn?

In sum naturals may have been discovered in the past, but naturals are new age, bright and potentially iconic if taken out of the dark. Marketers are you building the (b)right side of naturals?
Concluded.
.