Relationship Marketing: Buzzing Towards Marketing Success
The Emergence of Relationship Marketing (RM)
The marketing mix management paradigm has dominated marketing thought, research and practice since it was introduced almost 50 years ago. Today, this paradigm is beginning to lose its position.
New approaches have been emerging in marketing. The globalization of business and the evolving recognition of the importance of customer retention and market economies and of customer relationship economics, among other trends, reinforce the change in mainstream marketing.

Marketing is no longer just about developing, selling and delivering products. It is increasingly more concerned with the development and maintenance of mutually satisfying long-term relationships with customers (Buttle, 1996). RM is based upon the premise that it makes economic sense to satisfy and retain customers, as the strength and duration of the relationship is directly proportional to the resultant profitability. This contemporary interest in maintaining customers is reforming marketing with an emphasis on the creation of value and the building of relationships. This new marketing refocusing has been explored in consumer services marketing. The thrust has been to examine different aspects of customer satisfaction, relationship strength, relationship longevity and customer relationship profitability. The acceptance of relationship marketing is based upon the emerging body of research, which indicates how customer retention leads to increased profitability. This has prompted companies to treat their customer base as individual assets in themselves. Moreover, if a company builds and maintains good relationships with customers, it cannot be easily replaced by the competitors and, therefore, provides for a sustained competitive advantage.

After the post-industrial or service economy, most of the developed world is now entering a new, information economy. Perhaps it was natural, then, that the new developments first appeared in the maturing service industries of the 1970s and 1980s. Berry et al. (1983) surveyed the factors and developments in service marketing that later gave rise to RM. These factors include the combined impact of low growth rates and deregulation, resulting in "everyone getting into everyone else's business". This naturally meant increased competition. According to the writers, this forced companies to think more in terms of "keeping customers" as opposed to only "winning new customers".

According to Berry et al. (1983) a customer relationship is best established around a "core service", which ideally attracts new customers through its "need-meeting character". However, creating customer loyalty among the old customers is one of the main goals of RM. The authors also mention "frequent flyer" programmes and other incentive programmes intended to encourage customer loyalty by rewarding it.

Some Popular Definitions
• Relationship Marketing is to identify and establish, maintain and enhance and when necessary also to terminate relationships with customers and other stakeholders, at a profit, so that the objectives of all parties are met, and that this is done by a mutual exchange and fulfillment of promises (Grönroos, 1994; Mattsson, 1997).

• Relationship Marketing can be viewed as the building, maintenance, and liquidation of networks and interactive relationships between the supplier and the customer, often with long-term implications. As a consequence, marketing becomes first and foremost relationship marketing (Gummesson, 1990).

• Relationship Marketing is the process of co-operating with customers to improve marketing productivity through efficiency and effectiveness (Paravatiyar, 1996; Mattsson, 1997).

• Relationship Marketing is the process whereby the seller and the buyer join in a strong personal, professional, and mutually profitable relationship over time (Pathmarajah, 1991).

A Paradigmatic Shift
Relationship building and management, or what has been labeled relationship marketing, is one leading new approach to marketing which eventually has entered the marketing literature in eighties. A paradigm shift is clearly under way. In services marketing, especially in Europe and Australia but to some extent also in North America, and in industrial marketing, especially in Europe, this paradigm shift has already taken place by that time. Books published on services marketing and on industrial marketing as well as major research reports published are based on the relationship marketing paradigm. (Berry; Ballantyne; Gummesson; Gronroos; Hakkanson; Payne)

Relationship marketing has often been contrasted to Transaction Marketing (e.g., Baye, 1995; Jackson, 1985) which is about developing, selling and delivering products by means of short-term, discrete economic transactions. Because the lifetime value of the customer is not taken into account, customer attraction but not customer retention is at the heart of transaction marketing exchanges. However, it is now proposed that closer attention is paid to the long-term financial benefits, and other benefits, of retained customers the main reason being that competition in the marketplace has intensified. To achieve growth, it is argued, organisations must change their paradigm to that of relationship marketing.

As RM is a term used in a broad manner, there is probably a need for the marketing practitioner to understand what it is, its impact on the organisation (not just on the marketing aspects), its applicability to an organisation, and its benefits to customers.

There is a need to understand that RM is an overall strategy for the organisation and not just a sales tool with a short-term orientation. RM requires a long-term plan, and anything long-term requires a strong organisational commitment and appropriate investment.

Figure 1 truly depicts the fundamental difference between nature, scope and core dimensions of transaction marketing approach and relationship marketing approach.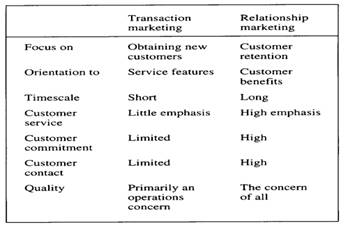 Figure 1: Transaction Marketing Vs. Relationship Marketing (Payne, Adrian)
.