Social Advertising: Its Impact on Society and Businesses
| November 16,2013 11:04 am IST

Greenpeace has launched its campaign against deforestation where instead of recording a typical advertising with a slogan, they decided upon something more original in order to assure the message gets the right audience. The story is as follows: Ken, the eternal Barbie´s boyfriend, is very sad as he discovered that his beloved works for a company that is destroying forests in Indonesia and soaked up in his tears he decided to leave her and look for another girl.
This is the way; Greenpeace rightly targeted the audience to inform how Mattel cardboard boxes, where Barbie is kept safe, are made.

This is a typical way many organizations are adopting to reach out to the greater masses in a way to change the way people think.


Consumers today are looking for brands that share their values:

We all, most probably, know the story of the battery powered car, Mahindra Reva E20 and how it popped up some pretty tough questions from its Indian customers. Brands are on the verge of answering questions like- What do we stand for? Who do we stand with?

Brands should become more willing to take a stand, but they should do so in a much thoughtful, considerable way that is more likely to put them on the same side as their customers. We can cite the example of Gillette India and their movement against the lazy stubble- If we look carefully, this particular campaign generated a sense of urgency or fighting something bigger in society that isn't right.

A movement strategy begins by figuring out the core values of the brand. What are you for? What are you against? Though many marketers are reluctant to take a stand against anything, as it might feel controversial. But some bold marketers have been doing it successfully for quite a while. Today consumers are looking for brands that share their values and outlook.

Researchers have found, brands are quite interested to take a glance at their own cultures and values and are inclined to look into the lives of their core customers as it initiates brands to have their own mission clearly. They are in a position to not just run ads, but much more, they can launch or initiate a movement. An initiative can help marketers to overcome the problems of brands not paying attention to their customers.

b.)Impact On Business:

Today most marketers include some type of social advertising tactic in their kit. A survey done on advertisers helped us to gather some proper insight on the tactics used by them and the even finding out the most effective ones.

Some of the trends will help in measuring the interests and utilization of social advertising. Some of the responses by the marketers and agency professionals are as laid down.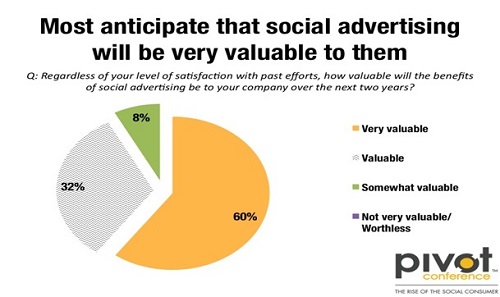 Optimism is always bursting and teeming up in social advertising. Of those who responded, 60% have declared that social advertising will be very valuable. Another 32% agreed social advertising to be valuable keeping aside the level of satisfaction with past efforts.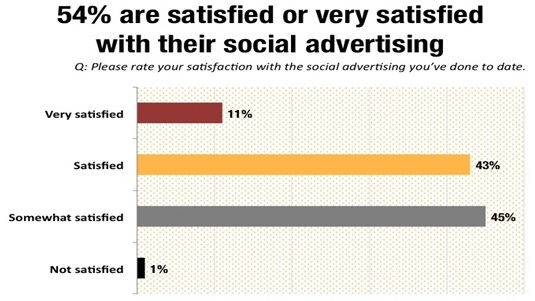 Business firms are found to provide a postive response regarding use of Social advertising. They consider it successful or worthy of investment with only a 1% being not satisfied with the impact.

It was found that major social platforms dominate Social advertising programs with Facebook, Twitter and YouTube being the leaders at 93%, 78% and 61% respectively. Quite a few have even planned of deploying in the next 12 months in these social platforms.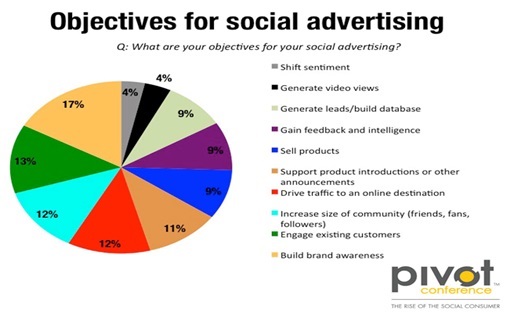 Different brands have showed different outcomes in their objectives of Social advertising. The current most common outcome being 17% showing support product introductions and other announcements. 13% do so to engage their existing customers. 12% drive traffic to an online destination, while another 12% use Social advertising for increasing their size of community which includes friends, fans and followers.

Towards the bottom, an interesting 9% three-way draw among generating leads/building database, gaining feedback and intelligence and selling products. The least of 4% use either for shift sentiment or generating video views.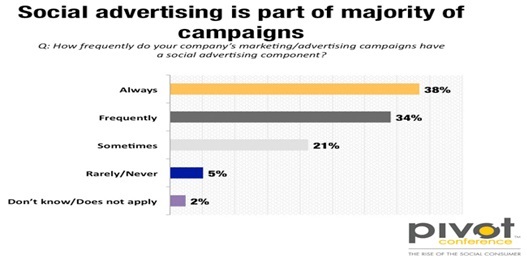 On being asked how frequently these companies have used Social advertising for their marketing and advertising campaigns, 38% declared that they do so always and another 34% use these platforms frequently. A 5% of them rarely use these components.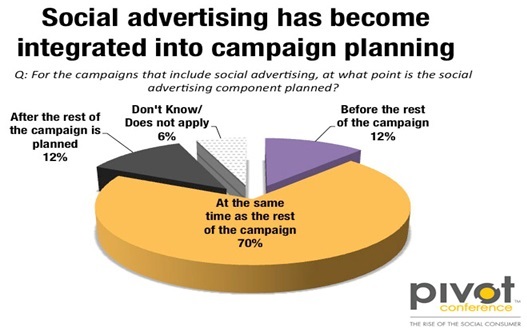 For most of the companies Social advertising have become an integral part of campaign planning with 70% agreeing to use Social advertising along with the rest of the campaign. Tying at 12%, companies declared to have used it after the rest of the campaign is planned and even before the campaign is planned.

Few well-known and successful social advertising campaign in INDIA :

Megastar Amitabh Bachchan is elated that his angry young man act for the polio campaign has led to a decrease in the number of polio cases this year.Happy with the response to his polio campaign, the 69-year-old actor urged people to make India polio free. He has been serving as the goodwill ambassador for UNICEF since a decade in eradicating polio.

Sadly, the program failed to achieve its due goal and it was then that Mr. Amitabh Bachchan was made the face of this campaign. This took place in the year 2005 and by the year 2012 polio was long gone from our country, WHO even took India off the list of polio endemic countries. There is hardly a single case still existing. This tremendous success of the campaign can be highly credited to this superstar which brings us to the question, What is the role of an actor in promoting social causes?

.