Strategies for Marketing Success
Executive Summary
The thrust of marketing and of branding strategies for products and services has shifted from being 'market-driven' to 'market-driving'. However, this is not a new phenomenon and the companies that have been able to capture this through their marketing strategies have set examples for a lot more to follow.
Marketing theory suggests the routes to success for firms within the framework of the marketing mix or 4 P's. However, this has been extended to 7 P's to incorporate the other important aspects that went beyond product, price, place and promotion. We have explored the branding strategies of some of the most successful brands in the marketing world, who have risen to the top by providing value to their customers by following the path 'less traveled'. Brands such as Starbucks, IKEA, Sony, Dell and others have identified innate and unexpressed customer needs to enhance the value provided and in return garner commitment from their loyal customers.

We have realized that although differentiation is the difference between life and death of brands, this differentiation has to stem from forces that do not always have a theoretical explanation. At times it is wiser to rely on non-text-book ideologies such as intuition, gut-feeling, and vision. Legendary brands such as Virgin & Dell were built on the strong gut-feeling and the conviction they had in their belief and offerings.

Such brands have breakthrough success as a result of radical innovation, a strong business system and a leap in their value propositions. Dell broke the traditional value chain to sell PCs to the consumer via direct channels. Avis, the car rental company communicated its No. 2 position in its advertising copies, again a non-traditional practice.

There are many successful firms that have found success in moving beyond the thinkable into the realm of creativity, innovation and prudent marketing insights. An emerging paradigm - the Four A's has the potential for explaining success of these maverick brands.

Strategies That Have Re-written Marketing Books
The fundamental principle in marketing is "know your consumer and cater to his needs by aligning the elements of the marketing mix - product, pricing, distribution and promotion in a profitable manner". Such a principle is restrictive as it is founded on the assumption that the consumer is able to discern and articulate his needs in a manner that is useful to the marketer. A consumer, one must remember, is a person or representative of an actionable aggregate (target segment). As he is the origin and destination of all marketing actions, brands get locked into a "comfort zone" and innovation gets reduced to "incremental changes". Such a position, however, is characteristic of brands that lack innovation, brands that lack that extra, the disruption which is vital to escape the ills of this stagnating cycle, the ability to break out of the mould and create a splash in today's ocean of brands.

However, few brands have had the wherewithal to re-define marketing principles. We will examine them in light of a few traditional principles of marketing literature that are depicted in the figure below. These are arranged in a rough sequence of marketing activities to be performed for any brand.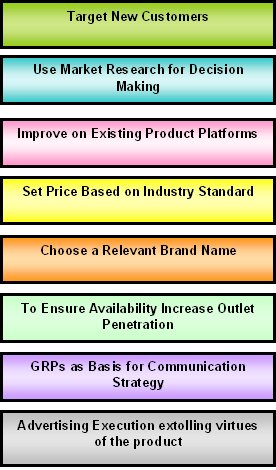 Traditional Marketing Activities
Target New Customers
Marketing theory has taught managers to increase the customer base to the maximum possible. However, some brands have chosen to focus on existing customers. Harley-Davidson is one of them. On the brink of bankruptcy in 1985, Harley pulled out to become one of the world's most admired companies. The secret of this success was the strong passion attached to the product and the company began promoting its dedication to individualism, adventure and fulfillment to its employees, dealers and customers around the world. It re-invigorated the HOG's (Harley Owner Groups) and used those beliefs as the basis for extending its products and services beyond the bike. The creation of the Harley community made the owners fiercely proud of owning the brand and they wanted to be associated with it for life, and even paid an annual fee for that. So whereas competition churned out new models and engines yearly in a bid to gain new customers, Harley celebrated their anniversaries, raised money for charity and differentiated by going to the extent of not showing their motorcycles in their advertisements. THE HOG's are bound by a common passion of "Making the Harley-Davidson dream a way of life". The philosophy was that of including people in the family and growing the family more by word-of-mouth and sharing a common consciousness for the passion of owning a Harley. In effect, Harley didn't have to select target consumers, they chose themselves.

Use Market Research for Decision Making
Marketing theory lays emphasis on market research to identify consumer needs, perceptions, beliefs and preferences. These are considered necessary inputs to key marketing decisions related to product planning, targeting, positioning, brand extensions, promotion and channel planning among others. In theory, the idea has a sound logical base. On the flipside, market research does not help in a firm's efforts to challenge status quo. Also when all firms in an industry rely on research, they end up with very similar data and this collective wisdom rarely serves as a basis for competitive advantage. We have numerous instances in which the absence of market research has led to brand success or its presence has led to a failure.

Sony has been a powerhouse in developing and launching innovative products, which have created new markets and businesses, such as the transistor, radio, walkman, 3.5 inch diskette, and audio compact attest. 'New products create new markets' is a guiding credo at Sony. This is in contrast with the concept of tailoring products for markets. Sony believes that a great product has the potential to sell itself. Therefore, market research is superfluous as consumers would never be able to come up with the product themselves. Sony's product development process is unique in the terms of the faith it puts in its employees to generate breakthroughs, and at the same time tolerate their failures. Sony has become a strong mega corporate brand with a dream delivery concept since the eighties that says, "You dreamt it, Sony made it."

.