Converging MBA Salaries Around the World
| August 20,2010 03:08 pm IST
US and European MBA recruiters reported average MBA salaries of US $90,250 in 2006, according to the QS TopMBA Recruiter Survey 2006, but other regions of the world are catching up. Over time, it appears that MBA salary differentials between sectors and geographies are diminishing, and may even disappear, as companies vie for MBA talent in all corners of the world.
Many multinational companies co-ordinate recruitment on a global level, and do not want to drive top candidates away from key geographies because of a salary differential. As international companies set up operations in emerging markets, they are increasingly willing to pay more for MBAs, who they see as critical for building a foothold in each region. For example, it is likely that MBAs in new EU states like Bulgaria, and Romania will see a rapid jump in salaries from their current low levels.
As the QS World MBA Tour brings international business schools to international markets, it is also facilitating the future recruitment of local talent by global employer, at global salaries.
Benchmarking by Sector
In 2006, average consulting base salaries in North America and Europe at US $94,000 have, once again, overtaken those in financial services at US $93,800. After many years of the base salaries in consulting surpassing those in financial services, financial services edged ahead in 2003, again in 2004, but has fallen behind again since 2005. This reinforces the view that both sectors are vying for the same talent are setting salaries relative to each other.
Banking salaries for fresh MBAs reached as high as $155,000, amongst this year's respondents and as low as $20,000 in some emerging markets. Consulting salaries for fresh MBA hires reached a high of US $145,000 and a low of $32,000 in emerging markets. These salaries look unlikely to slacken off, given the forecast increases in demand for MBAs by consultants and banks over the next few years.
There also appears to be a relationship between general industrial and technology salaries. During the dotcom boom of the late nineties, technology salaries were consistently 10% above industrial salaries. But in the subsequent technology crash, industrial salaries jumped ahead, but have now fallen behind again as technology firms around the world start hunting for talent.
The chart below tracks MBA salaries in the US and Europe from 1999 to 2006 by key MBA recruiting sectors. This chart reveals the long-term global increase in salaries in consulting, finance, technology and general industry, since 1993.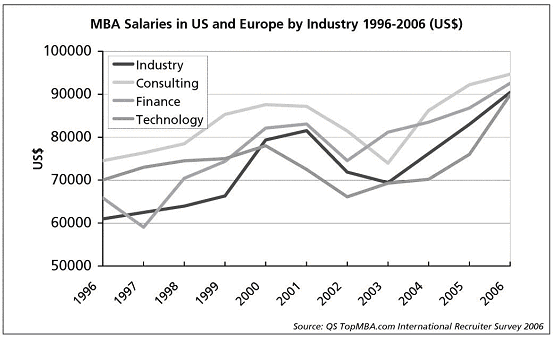 MBA Salaries in US & Europe by Industry 1996-2006 (US$)
Consulting firms are competing by offering higher salaries than banks. However, many MBAs are being recruited by banks at present. Why? The larger bonuses payable by banks, and investment banks in particular, ensure that they offer the greatest overall compensation for the first year out of business school, averaging US $146,500 in 2006. MBAs who choose to join banks are judging that the financial sector boom will continue and banks will continue to pay high bonuses resulting in higher overall compensation. Such bonuses may not last, however. We saw in 2001-2004 that banking bonuses for MBAs fell to less than $15,000 per annum compared to the current high of $53,000.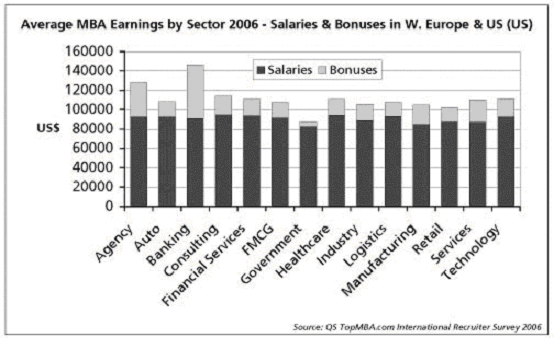 MBA Salaries & Bonuses in the US & Europe 2006 ($US)
.