CAT 2010 : IIM Bangalore issues admission policy for batch of 2011, keeps it calculation based
| October 27,2010 02:28 pm IST
Following IIML and IIMK, Indian Institute of Management, Bangalore has also issued its admission policy for Post Graduate Program in management for the batch of 2011. The admission policy of IIMB is a process refined over the years based on candidate's cumulative data on Common Admission Test (CAT) and overall academic record.
The process arrived at is based on past academic performance, CAT score, performance in interview and prior work experience.
Over the years IIMB has found that students who perform well in academic program are those who have a consistently good academic record. Therefore IIMB gives due weightage to a candidate's academic record, like performance in high school, graduation and scores in CAT to judge a candidate's caliber for PGP at IIMB. Along with this, candidates having a relevant work experience are also given due weightage.
CAT score, either than just being a selection criterion, is used to access a candidate's minimum proficiency of the subjects indicated by minimum cut-offs for each section. Multiple criteria are used to arrive at a composite score for every candidate, which is used to select candidates for the subsequent stage.
The admission process at IIMB has been divided into two phases, in the first phase all eligible candidates appear for CAT and those who qualify are called for the second phase, i.e. Personal Interview. Candidates short listed for PI are also asked to write a short note (one page) on a topic provided by IIMB for which 30 minute time is allotted to each candidate. The topic may relate to current political scenario, economic and business affaires, though other topics like sports, entertainment etc which requires creativity may also be allocated. Candidates having work experience will be evaluated on the quality and relevance of their work experience. These scores, in combination with the pre-PI selection parameters will be used cumulatively in the second and final phase of selection to identify the candidates who will merit selection from among those candidates who appear for the PI.
Phase 1
1) The first short list of candidates is based on candidates securing minimum section-wise and aggregates percentile scores in the CAT. The percentile cut-off scores used in 2010 are shown in Table 1. All the subsequent processing, standardization and selection was limited to candidates belonging to this first short list alone. This means that the CAT score alone was used as the basis for arriving at the first short list.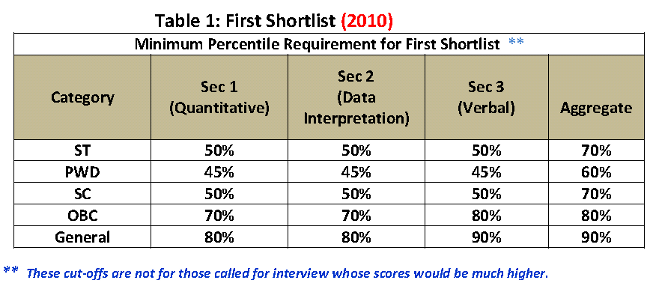 2) For all candidates in the first shortlist as stated in (1), the candidates' percentage scores in the 10th and 12th board exams was initially adjusted by dividing each such score by the 90th percentile score obtained in that board. The database of 10th and 12th scores of all CAT applicants of the past two years was used for identifying the 90th percentile score for each 10th and 12th board for this purpose.
3) For all candidates in the first shortlist as stated in (1), final scores obtained by the candidate were used for the bachelors' degree and professional degrees (if any). Incomplete or intermediate scores were considered only if the candidate's final score was pending. Thus, for final year bachelor's degree candidates, their incomplete graduation score would be taken in lieu of final graduation score. Graduation scores were adjusted within their respective categories. This gives the adjusted score for the bachelor's degree for all candidates in the first shortlist.
.