Top 10 Reasons why you should join JBIMS
| May 02,2012 04:39 pm IST
If I tell any relative of mine that I study in a place called Jamnalal Bajaj, the association that quickly gets built up is the image of the heritage Bajaj scooter and things connected to it. Some people think I am studying management in a company that manufactures two-wheelers.
Its a myth. What this place has been successfully producing is good management students!
Talking about the legacy of JBIMS since 1965, everything about this place, physical and intellectual, seems heritage. The striking red building the blend of modern classrooms one of Asias largest libraries and the traditional infrastructure and of course the extensive alumni network over 47 years
Perhaps the first reason why I even wished to clear the CET exam was: JBIMS & its excellent alumni base. There is an exercise you can try out. Take any major sector- be it Manufacturing, Consulting, FMCG, Banking, Real Estate and check the top management of the top companies in any sector. Invariably, you will find at least one alumnus from Jamnalal Bajaj in that company. There seems to be no reason why anyone would not want to join a B-school with such a rich alumni heritage and it is definitely not an exaggeration if I say that JBIMS is well known as The CEO Factory.
Now lets get straight to the reason why most students want to join a B-School Great placements!! Once you join JBIMS, you will learn a concept called RoI in other words, Return on Investment.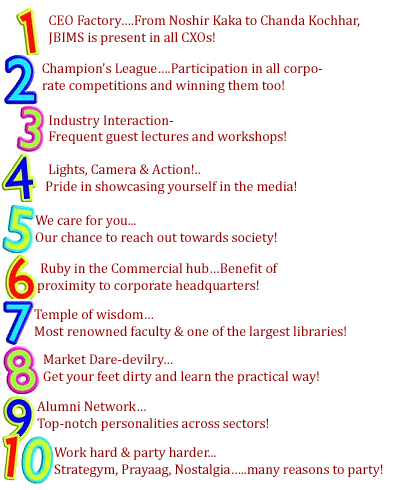 Those reading the article will thank me for explaining the concept a bit earlier than you would otherwise. Picture this: In JBIMS, a candidate pays Rs. 2 Lakhs as fees for two years. The average package of the 2012 batch was Rs. 14.9 Lakhs. This means your RoI is 7.45 ; staggeringly high returns for a meager investment. And expect no aberrations from the companies that recruit. You will observe that more or less, most dream companies visit JBIMS-for the excellent quality of the end product it has to offer. At this institute you will come across some of the finest faculty in India, across all streams, to support this quality.not just PHDs but by the ones who have made their mark in the industry time and again.
I am a mommas boy, (Which guy isnt anyway), and I love ghar ka khaana. Being a Mumbaikar, I also strangely take pride in travelling by local trains and coming home at night to sleep on my own bed after a long tiring day of 14 hours at the institute. Of course, the thrills of hostel life elude me where every occasion is celebrated in its best form, be it Holi or even India winning the World Cup. And most importantly, theres no hostel warden or faculty that prevents you from going there even at 3 AM. If you are a student of JBIMS and from Mumbai, you will do all that you would like to do in your own sweet Mumbai and still proudly boast of being a management student of a premier B-School.
You live and enjoy life Bajaj way, once the eight pillars; its committees take charge of its fun and academic activities. Nothing is free or complementary at JBIMS. Youve got to do it yourself and every Bajajite learn it the hard way. In the process we learn a great deal of organizing, man management, leadership, decision making etc. you have it all here; parties, Strategym, quick summers-off summers, quizzes, competitions, real industrial case challenges etc.
So in short, Bajaj lets you keep that element of personal life, while pursuing the much coveted Yum-Bee-A and does it in a manner that lets you have modest and quality exposure to good education, bumper return on investments and a lifetime connection with an abundance of alumni spread throughout the corporate world. It is one of the best B-schools in India, and it surely brings out the best in you.
.