Uttam Galva Steels Ltd.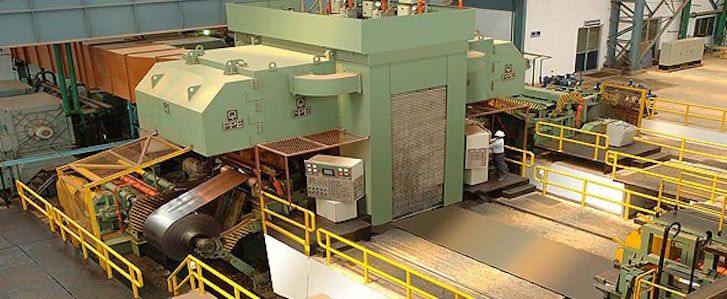 Uttam Galva Steels Limited (UGSL) is one of the largest manufacturers of cold rolled steel ("CR") and galvanized steel (GP) in Western India.
The Company is into the business of procuring hot rolled steel ("HR") and processing it into CR and further into GP and Colour Coated Coils. Uttam Galva also specializes in making ultra thin steel sheets, which could be as low as 0.13mm thickness.
More than 50% of the Company's products are currently exported to 132 countries worldwide and it has a customer base in many advanced markets such as Australia, France, Germany, Greece, UK and the USA to name a few. The Company is also a large supplier of galvanized coils and sheets to the construction industry.
The Company's manufacturing facilities are located at Khopoli, in the state of Maharashtra, India.
Uttam Galva Group also runs two more plants in India: Uttam Galva Metallics Limited and Uttam Value Steels Limited (previously known as Lloyds Steel Industries Limited) both at Wardha, Maharashtra.
The Company is an ISO 9001:2008 and TS 16949/2002 accredited Company both for CR and GP/GC. It has also been awarded the highest exporter award by the Engineering Export Promotion Council ("EEPC") of India for the past 17 years in succession.
In the fiscal 2012-2013, Uttam Galva had net revenues of Rs. 59111 Millions (US$ 1087 Millions) and net income of Rs. 616 Millions (US$ 11 Millions).
Employees~18,000
DescriptionUttam Galva Steels Ltd. is one of the largest manufacturers of cold rolled steel (CR) and galvanized steel in Western India.
Uttam Galva hires Engineers and Management Graduates in different disciplines of Manufacturing Engineering, Planning, Project, Application Engineering, Sales & Marketing, Logistics, ERP System and Finance. Interested candidates with required qualifications and relevant experience can send in their detailed Bio-Data to:
Or fill the Online Form at the following link:
http://www.uttamgalva.com/hrd/career.html
More Information
Key People
Rajinder Miglani, Chairman
Om Prakash Gahrotra, Director
D. L. Rawal, Director
Shirish T. Parikh, Director
Anuj Miglani, Managing Director
Products / ServicesRolled Steel
Phone Number+91-22-66563500
Company Office Address
Corporate Office,
Uttam House,
69, P.D'Mello Road,
Mumbai – 400009 (Maharashtra)
Website: www.uttamgalva.com
Company Achievements
• UGSL has achieved success internationally resulting in it being the recipient of the highest export awards for 17 successive years.
• UGSL received the Maharashtra State Award for Excellence in Exports for 2006-2007.