Placements at IIM Ahmedabad Continue to Show Growing Preference for Indian Firms & Locations
Sectors such as private equity, niche consulting, technology and logistics made a debut at this process. The growing number of firms on campus offering diverse roles, greater job responsibilities and higher compensation packages, at a time when the global job market is in a downturn, stands testament to the quality and diversity of the talent at IIM-A.
The Entrepreneurship Saga Continues
With as many as 11 talented young people opting out of the placement system to start their own ventures, the trend of taking this less traveled road has grown stronger. These students have plans to start their ventures in areas as diverse as logistics, manufacturing, advertising, finance and agro-processing in addition to information technology. There are many factors driving these young entrepreneurs: a larger appetite for risk, the thrill of controlling their own destiny, and the promise of great success. IIM Ahmedabad is also playing a part in promoting this trend; the institute recently came up with the policy of a 'placement holiday', which allows graduating students who choose entrepreneurship as a career option to sit for the institutes' placement process for two years after passing out from the institute. However, so far not a single person has availed of this policy, which is testament to the quality of ventures started by students passing out. Dushyant Mullur, who plans a venture in the Services Domain, says, "The culture is wonderfully supportive in terms of encouraging entrepreneurship. Be it professors, peers, or the institute, support is one thing certainly not lacking." Siddharth Jaiswal adds, "I feel the biggest learning for me at IIM-A has been to think BIG."
Table 1: Batch Profile - Work Experience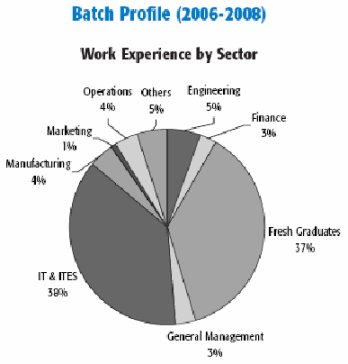 ---------------------------------------



Click here to Debate on latest trends of Placements 2008 as the saga unfolds itself.

Read complete story of Placement 2007 as it happened along with analysis and comparison across the B-schools and segment-wise analysis.