NITIE Business School, Mumbai
Rise in International Offers & Diversity of Profiles Highlights Placements at NITIE-Mumbai
NITIE has been a torch-bearer in India for delivering world-class management professionals to the industry year after year. The corporate giants picked up young managers in large numbers at NITIE. Consulting giant Ernst & Young made 13 offers, FMCG sector was dominated by Procter & Gamble who made 21 offers, Cognizant Technologies led IT with 21 offers, and banking and financial advisory saw ICICI Group make 30 offers this year.
The number of international offers grew to 10 with Merrill Lynch, Olam International and Essar Group leading the pack. The highest international salary was US $ 85,000. The highest domestic salary offer made was Rs. 20.97 Lakhs, which grew by 40% as compared to last year's figure. The companies had already displayed their confidence in the talent pool at NITIE as the number of PPO offers stood at 66. The Batch of 2008 fittingly displayed its prowess as an average of 2.41 placement offers were made per student by various companies.
Giving wings to the bold dreams of these young managers were companies like JP Morgan Chase, HSBC, Barclays, Citi Group, Asian Paints and GE (IMLP, Commercial Finance) just to name a few. The students who brought industry-specific work experience to NITIE found takers in Multi-National giants such as IBM, Accenture Business Consulting, Manhattan Consulting, SAP, Global e-Procure and Bristlecone. The premier job profiles ranged from Strategic Management to Consulting.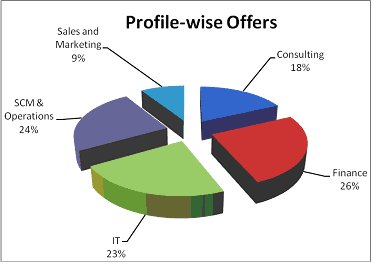 NITIE has displayed its exuberance in the FMCG Sector since its inception. Some of the majors who participated in the placement exercise were HUL, GSK, Procter & Gamble, Colgate Palmolive, Cadburys, Britannia, Johnson & Johnson, ITC, Glenmark and Reckitt Benckiser. The profiles offered in the FMCG sector were those of Sales, Marketing, IT and Supply Chain. 23% of the students grabbed the jobs in this sector.

---------------------------------------



Click here to Debate on latest trends of Placements 2008 as the saga unfolds itself.

Read complete story of Placement 2007 as it happened along with analysis and comparison across the B-schools and segment-wise analysis.