PAN-India Entrepreneurship Awareness Drive 2014 - EAD-14
Entrepreneurship Cell, IIT Kharagpur is a non-profit student organization established with the aim of fostering the spirit of entrepreneurship among college students in India. They are one of the most successful entrepreneurial organizations in the country with over 50 start-ups incubated within 8 years of their inception.
They conduct Guest Lectures, Workshops and Business Plan Competitions and provide mentorship and incubation support to aspiring student entrepreneurs.

The Entrepreneurship Awareness Drive (EAD) is one of their major flagship events, the other being the Global Entrepreneurship Summit held in January. The EAD consists of a series of Guest Lectures and Workshops in 20 cities in 20 days in the month of October. Each city plays host to an Entrepreneurship Awareness Camp (EAC), where eminent entrepreneurs and industry leaders counsel students about the pros and cons of entrepreneurship as a career and how it differs from the usual run-of-the-mill job culture that has existed till now. Each EAC also features a Networking Session, where Startups, Students and the Guests can freely interact as well as a Startup Pitching Session, where the startups attending a session get a one-on-one interaction with the Guest Lecturers.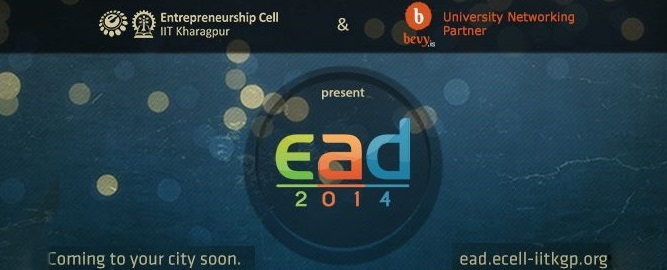 EAD has come a long way since its inception 6 years ago and has seen the number of cities grow from 10 to 20 with a footfall of 16000 in 2012 and 20000 students in 2013. Some of the distinguished guests who have stood on the dais of EAD include Ms. Kiran Mazumdar Shaw, Founder of Biocon, Phanindra Sama, CEO of Redbus.in, Arjun Malhotra, co-founder of HCL Technologies, Mr. Irrfan Alam, Founder, Sammaan Foundation and the contemporary face of Social Entrepreneurship in India and Ms. Shaheen Mistry, Founder, Teach for India Foundation. As this drive continues to reach more students and entrepreneurs, ecell move one step closer to achieving Vision 2020, as outlined by Former President of India Dr. APJ Abdul Kalam.

The Entrepreneurship Awareness Drive also coincides with the launch of Ecell International Business Model Competition:Empresario. Empresario is Ecell's Annual Business Model competition where business ideas in all fields ranging from Product and Service, Product Design to Social get equal opportunity to win the prize and incubation money to the tune of INR 2.5 crore. The prizes and services for the winners as per the last year are worth 15 lacs INR. Previously, Empresario has been launched in association withTiE Kolkata, Mahindra Spark the Rise and Dell Social Innovation Challenge.

This year, Entrepreneurship Cell IIT Kharagpur are proud to present the new prestigious Empresario 2015 in association with International Business Model Competition (IBMC). The best entries in all categories will get an opportunity to participate directly in the semi-final rounds of IBMC 2015, which will be conducted abroad.

The Impact- About 25% of the entries in their Business Model Competition - Empresario were from participants of EAD, which underlines the impact of this unique initiative towards motivating young minds towards entrepreneurial thought and action. 108 colleges participated in EAD 2013, with 20 colleges associating with us to conduct the EAD in their respective campus. During the drive, many colleges expressed their interest in setting up entrepreneurship promoting bodies for the benefit of their students. Activities have been initiated to set up EDCs or E-Cells in such colleges with Entrepreneurship Cell, IIT Kharagpur as their mentor. The campus ambassadors appointed from each associate college have also received due recognition from Entrepreneurship Cell, IIT Kharagpur. Thus, a healthy network has been developed between a large number of colleges and Entrepreneurship Cell, IIT Kharagpur, which is important for spreading awareness about entrepreneurship across the entire country.

For more details, log on to Here
Concluded.
.