SmartOn launches India Operations with New Age Learning Solutions
SmartOn Learning, an innovative global education start-up, announced its official launch into the Indian market on October 28, 2013. With offices in New York and Hyderabad, the Company specializes in providing new-age career courses, developed in collaboration with leading industry partners and Universities.
The programs are offered in blended format (combination of online & class-room based). SmartOn Learning offers world-class technology platform to facilitate blended/online learning along with career diagnostics and continuing education solutions.

Starting with the Indian market, SmartOn Learning plans to tap international markets subsequently. Based on the "plug-and-play cloud based platform", SmartOn Learning provides an innovative platform for higher education institutes catering to new age skills. SmartOn Learning aims to make quality content & adoption of technology easy and affordable.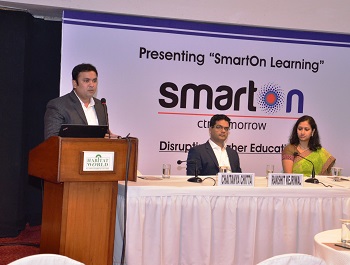 SmartOn has successfully launched its first program in collaboration with Pearl Academy.

Research has shown that less than 10% of MBA graduates are employable and 83% of engineering graduates are unfit for employment. About 50% of the universities have infrastructure deficiencies and near about 40% of Universities faculty position remain vacant. SmartOn Learning programmes are targeting careers where there is a significant real-time demand and enabling students to learn in an interactive way to acquire effective and relevant knowledge.
.