The Real Side of the Story-My Summer Internship Experience
I clearly remember that night; I was practicing for my dance performance at 11:30 pm on 28th Jan and was suddenly called for a con-call by my placement team. Four of us gathered in a room and were sitting around the conference table, waiting for the call.
Finally, we received the call from the regional sales manager of Tata Steel (Agrico division) with the offer of joining Tata Steel as interns. He congratulated all of us and asked to give our confirmation one by one. There was a speaker-phone at the center of the table and we started giving our confirmation like- "Abhishek here, I accept the offer…" It reminded me of the scene from the movie 'A Wednesday', wherein Mr. Naseruddin Shah asks for the signature of those three terrorists one by one. Pretty dramatic I know..!!
And henceforth, I bagged my summer internship with Tata Steel.

Three weeks later I received a mail from Tata Steel stating that all interns have to report to their Kanpur office. I wondered for a while why were we being called to Kanpur, as I was initially informed to report to Dehradun (My hometown). The first thought that crossed my mind was -maybe it's the regional head office of northern India and close to Dehradun- and I was happy.

My first year end-term exams were over and I was back in Mumbai (my current home-location). I was so excited while packing my bag with all new business formals. And, on 5th April 2013, I took my flight to Lucknow.

Thus, my journey began.

I love going to Lucknow and Kanpur, because I'm pampered there by my close relatives. Although we were offered accommodation by the company, but I had a better one..!!

The next day 10:00 am was our reporting time. I was sitting back reading a newspaper as the driver was maneuvering the machine. I was feeling like an executive director going to make strategies with the CEO. But ironically, I was actually going to dig my hands in dirt, to provide food for the executive director to make strategies with the CEO. (#'Bakra')

A little later I asked a couple of people to get the direction of the office. You know you are in Uttar Pradesh when you ask a person about an address and ten people gather around to give the directions even if they have no clue about it..!! Finally I reached the office. It was an old dilapidated building with a gloomy atmosphere. After waiting at the office for a while we were told that our induction has been arranged in the hotel's banquet hall. Ah, what a start. We took the famous mode of conveyance of Kanpur- 'cycle rickshaw' and also luckily reached the hotel. Then after reaching the banquet hall I realized that there were some other lost souls in search for light. After interacting with them I found out that they were also recruited as summer interns. Bingo..!! Six were from IMI-Delhi and one from XIMB. As we were interacting with each other, enters a troop of gentlemen. Mostly all of them were in white shirts. For a second I thought that they are here for some political meeting. But soon, they asked us to be seated. They were the managers from Tata Steel. Comic moment..!!

After we settled down, a young guy who appeared to be a teenager started to address us. While we were still wondering who he is, he introduces himself as the Marketing Manager in Tata Steel. We all were flabbergasted; it took a little while to digest this fact, as he looked too young. He was an FMS Delhi 2011 batch pass out. He introduced the rest of the gentlemen. They were Manager (Sales), Manager (Retail), the distributor of UP and the district sales officers. Now starts the knowledge "GYAAN" session- "You all are being put in the Retail Value Management (RVM) team. RVM team has been validating the market of India for the last six months. We have 3 states in pipeline- Uttar Pradesh, Madhya Pradesh and Rajasthan, and you all will be given your beats (territories) in these states, needless to say that it's a live project." And the sound of shattered glasses touches my ears, No Dehradun…!! We all were given time to choose our preference from these states. UP was the obvious choice for me because of the presence of my relatives across the state. We came back to the hall after a while, and were asked to be seated around three round tables (assumed as three states). I saw that most of the interns joined UP table followed by MP and just one person for Rajasthan. Interns were tossed here and there to balance. Useless logics were used; one guy who hailed from Pune was made to join MP because Maharahtra and MP are adjacent states. Finally after division of teams, our technical session started. We were taught the concepts of RVM/market mapping, explained about the objectives and the nuisances of the market. That day I learnt how market share is calculated in industries. Share of business, market reach, and other technical terms were thrown at us. It was a truly a knowledge gaining session.

Later on, there was a party thrown by the distributor for the managers and management interns in the evening. We reached the venue and were delighted by the arrangement. Bottom-line- we got drunk and danced on the tracks like 'Hookah Bar' with the managers. There couldn't have been a better welcoming to the corporate world.

Next day training session comprised of mock interviews, preparing questionnaires, etc. The funny part was when we were physically introduced with the products. We were told the Hindi names of the products because in rural market the retailer may not understand English. Those names sounded so funny- 'Powrah, Belcha, Gehti, Kudali, Hasiya and so on.' Today we were loaded with the intricate facts of the market and products. To make us understand so as to check the originality of our product, we were made to lift the products and scan it inside out. Thus, ends my two day induction program with lots of insight about market mapping and Retail Value Management.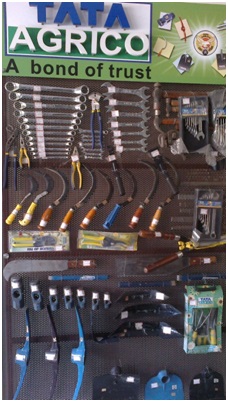 The next day starts with our field training. For all those who aren't aware about 'field'. It is a dangerous combination of heat, dust, uneasy mode of conveyance, filthy food and some yelling and abuse. Two days were enough to make me ask myself a question- "What the heck are you doing with your life...!"

I was depressed and this news spread among my friends and family. Soon I started receiving calls with motivational speeches. One particular call from my senior who now works as a senior consultant in IBM hit me- "…look at things from a different perspective; you'll learn about sales management and distribution management like no one else in your batch." It literally worked; I started enjoying my work after ten days.

.