Yeh Dil Maange More! - An Internship with Pepsico India in Bengaluru
They say a relevant internship serves as a priceless stepping stone to one's future career, irrespective of one's chosen domain. I arrived in the city of Bengaluru for a three month internship with Pepsico India Private Limited with that very ideal enshrined in my mind.
The sweltering heat, annoying traffic, dusty roads and alien layout of the city failed to dampen my excitement (but it did amplify some of my trepidation!) with regard to my initial tryst with corporate life.

I was to be the Assistant Customer Executive (Trainee) of the Southern Bengaluru Division. To ensure that I made a sprightly first impression on my Boss (whom I embarrassingly mistook for a gentleman during the final telephonic interview owing to her hoarse voice compounded by the ramifications of being a chain smoker!), I arrived at the well appointed offices a good half hour in advance.

The fact that I made it that early was quite a miracle given the multiple rounds of harassment and negotiation in broken Kannada that I had to engage in with the conniving auto drivers (read "rascalas" of the highest order!). By the end of my tenure, I was convinced of the existence of the "Mythical Cab and Auto Drivers' Code" which basically outlined the following, much to the chagrin of us inconvenienced citizens -

1. "Thou shalt always give the corporate man a hard time, see right through him when he attempts to flag you down and to add insult to injury; furnish him with a broad, tobacco stained smirk and rattle off some choice expletives."

2. "Thou shalt always pick a lady over a man as a potential fare. Ignore all flailing limbs and frantic calls." (My sincere apologies for deviating, but I believe that was an integral part of my internship experience that helped me develop my negotiation, communication and inter-personal skills!)

Where was I? Oh yes, back to my first day on the job. After the initial pleasantries were out of the way, my Boss quickly assigned me to an upcoming Marketing team project of utmost significance. Although she had offered me a cushier office job at first, I expressed my firm desire to work in the "field" as it would offer me a better and more enriching hands-on learning experience. My first-day enthusiasm went down very well with my enterprising Boss who decided to hand me an important assignment. In my capacity, I was supposed to regularly supervise and monitor the daily movement of Pepsi beverage products from the warehouses to the retailers across South Bengaluru on multiple routes. Additionally, I had to streamline the supply chain, inspect retail outlets, monitor movement and sales and propose feasible solutions to enhance Pepsi's presence in a predominantly Coca-Cola led market.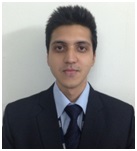 My mind did a possibly Olympic medal winning double back flip listening to her rattle off jargon and concepts completely alien to me, but to my credit I asked a few intelligent questions and nodded my assertion to a lot of what she said. I was handed elaborate maps of the city, given a list of numbers to call (my on ground supervisors etc.) and packed off with a friendly wave! The first thing I did the next day was trade in my suit (one that my doting Mother had purchased, fitted, re-fitted and re-re-fitted for my internship sojourn!) for more comfortable clothing. To move around the city, one of my senior supervisors was kind enough to lend me his rickety old Yamaha RX 150 motorcycle ("Petrol ke paise?" "Khud bharo!"). I had had scarce experience riding a bike until then but I took that opportunity to gain confidence! So essentially, my internship also facilitated the improvement of my bike riding skills!

I began to work with gusto and rode on the pot-holed roads of South Bengaluru like a maverick on a mission; overseeing the storage, transportation, product placement, turnover and advertisement spaces with aplomb. I soon realized that no amount of fancy management jargon could aptly describe the on ground realities and contingencies. I understood the critical role I was playing in being a vital link between those who persevered tirelessly in the markets and those folks ensconced in their air conditioned cabins back at the head offices. I was able to put my theoretical knowledge into actual practice which produced some surprisingly favourable results; much to my Boss's and my own satisfaction. I interacted with individuals at multiple levels of the quintessential supply chain, learnt, imbibed and asked more questions on the job (at times to my Boss's frustration!) to continue my learning process. I also learnt the value of forging excellent inter-personal relationships and clarity-infused communication.

Along the way, I drank tons of free Pepsi that the mostly considerate retailers would "shower" upon me when I would come to inspect their coolers and stock (This is not to negate the absence of some retailers who would wait eagerly for my arrival to unleash a barrage of complaints and torrents of criticism along with generous doses of flying saliva). There was one retailer I can never forget, Mr. Aiyappan who owned a ubiquitous general kirana store in a by lane off the main street. The 40 year old shopkeeper strove unstintingly to support his ailing wife and two college going daughters through his business. His efforts at keeping the business afloat were being neutralised by the emergence of a spanking new line of swankier general stores opposite. I would visit his store to monitor the sales turnover and take the next week's purchase order and he would swiftly offer me a stool to sit and a cold drink to sip on; whilst imploring me to convince the higher ups to give him an official Pepsi cooler to store the beverages (he had been using his own fridge until then). He would also make some excellent arguments against the prevalent retailer commission and pricing policies. A 15 minute visit to his humble kirana outlet would soon turn into an eye opening Sales and Distribution lesson! Thus, I have a lot to thank the enterprising Mr. Aiyappan; whose suggestions were duly communicated by me to the higher ups with modifications to enhance their feasibility.

.