Disrupting real estate sector Housing.com way - a chat with Advitiya Sharma, Co-founder Housing.com
CoolAvenues.com had the pleasure of speaking with Advitiya Sharma, Co-founder and Marketing head of Housing•com.
Young and confident Advitiya, engineering graduate from the hallowed portals of IIT Bombay narrated succulently how the germ of an idea was sown in the final days of college, when the prospect of setting out on own from the protected college environment into the big bad city of Mumbai was imminent.

The story goes like this: A bunch of IITians (armed with campus placements) were looking for reasonably priced accommodation with easy commute which by itself is an oxymoron in Indian cities. They came across fake posting of properties, seedy agents and spent close to 2-3 months to search for an accommodation. The efforts, time and money spent along with the frustration was simply too great. The ease of technology and authenticity had escaped the real estate sector.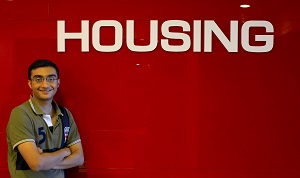 Accommodation was found, work life had begun, but the unsatisfying experience of house-search was still buzzing in the young minds of Advitiya and his friends. Real estate being a large sector, affecting every man on street was flush with funds but surprisingly the technology and its ease of conducting business was conspicuously absent. This set them thinking...technology can make the business user- friendly and less painful. Discussions followed and the opportunity was seen loud and clear.

The team quit their jobs in a span of 2-3 months and start building housing.com with 'authentic information', 'replicating the off-line presence without physical presence', 'ease of technology to user' and 'Problem solution', as their guiding principles. The tech-savvy team has introduced many firsts to the real estate sector.

Process Innovation:

Data collection: Housing.com was the first real estate company which provided real photographs of each and every property that was listed on its site. They have a data collection team from day one, which visits every property and take on-site location pictures, so that the users get authentic information and as well as replicate the offline experience without physical presence. Advitiya says" there are over 100 data points, which they try and answer.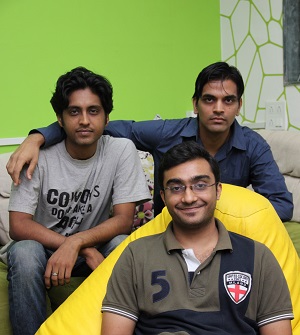 Map and facilities: Housing.com lists all the facilities like hospitals, schools, railway station, bus stop etc in and around the property. This helps users choose a locality or area which is suitable for them. This feature is especially useful for families moving into new cities.

Analytics: Housing.com has a team of data scientist who analyse data to generate many useful analytics. It provides users with demand Vs supply of inventory in each area, provides lifestyle index, price heat index (which localities are expensive, which are cheap), child friendly areas etc.

National Helpline: Housing.com has obtained a fancy telephone number, 0333 333 333 a national telephone helpline. The company provides guidance and help for property search over telephone.

Drones: Housing.com is using drones to capture the photos of new projects. It posts aerial pictures of the new projects. This gives the users a real-time idea of stage of completion of the project and the view from say 10th floor or 20th floor

Market and Road-Map:
The Company is spreading its wings across the breadth and depth of the real estate market. They have tied-up with agents, brokers, builders and house owners for listing across rental, resale, plots, new projects and PG accommodation. Housing.com is now present in every phase of real estate domain. The company is present in 25 cities and will continue to expand to newer cities and towns.

This new-age company does not believe in off-line marketing spend and has used social marketing tools, user reviews, superior technology and word-of-mouth to popularise and grow organically.

Size and Depth:
The company launched its site on 7th June 2012 with listings in Mumbai. In a span of two years, the company has 300,000 listing across 25 cities with 80,000 unique visitors. The company is expanding furiously with over 2,000 listing every day and plans to ramp up to 10,000 listings a day to hit a 1 crore (10 Million) listing by the end of 2 years.

PG Accommodation: Housing.com, for the first time listed PG accommodation. The idea was to help the students and girls who move to new cities to study or work to quickly find safe, good and clean accommodation with least fuss. The company claims to have captured 60% of the PG market.

New projects: Housing.com launched 'new projects' in February 2014 and has already listed 7,500 projects. The new projects has aerial view of the project, walk-through, 3D plans of the apartments, lists of amenities, building interiors, neighbourhood details and all associated details. The company has tied-up with some large builders including Rajesh Lifespaces, Kolte-Patil, Hiranandani, L&T Realty, Rustomjee etc.

Advantage Housing.com: Apart from the initial resistance and hard work that went with data collection to acquire and upload real photos of the property, the team has not faced any challenges. The team is doing "Good work" and 'proud of their work'. The company has received over $ 20 Million in Venture capital funding from Nexus Venture Partners and Helion Venture partners. Hence it is flush with funds and is expanding across the breadth and depth of the market.

Work atmosphere at housing.com
The atmosphere in Housing.com is young and energetic. There is an air of informality with groups huddled over coke and chips joking, laughing but if you listen closely, they may be discussing about a new design feature, the latest round of funding, a rise in site traffic, or how they had stayed up late and finished a project in the wee hours of morning.


Housing.com believes in the power of ideas, creative ways of solving problems and using technology to create awesome products and services.

.