NALSAR, Hyderabad Wins IIM Bangalore's Parliamentary Debating Championship 2009
On a serene evening at the magnificent open air theatre of IIM Bangalore, NALSAR Hyderabad defeated National Law School in the grand finals of Cicero, the IIM Bangalore's Parliamentary Debating Championship 2009 presented by Standard Chartered Bank, to take home the winners' cheque of a whopping Rs. 100,000. The debaters from National Law School, though disappointed, left richer by Rs. 50,000 nevertheless.
Cicero, although being hosted for the first time by this premier business school, turned out to be the biggest debating event in the country with 16 student and corporate teams from all over India - including the IIMs, IITs, Delhi School of Economics, S. P. Jain, and National Law School - vying for the coveted championship. Held over a period of two days, the event saw the participating teams take each other on in several preliminary rounds in the build-up to the grand finale.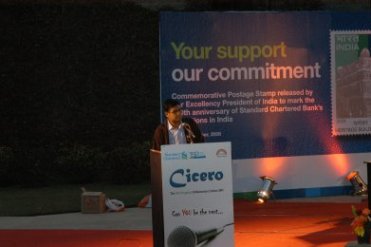 Parliamentary Debating Championship Being Held at IIM Bangalore
The final round of the parliamentary debate was preceded by a panel discussion on the current economic environment and its impact on business. The panel consisting of Mr. Suhel Seth, Managing Partner of Counselage India and a well-known media personality, Mr. Subhas Dhar, Senior Vice President of Infosys Technologies, Mr. R. L. Prasad, Head of Lending Business of Standard Chartered, Mr. Ritesh Banglani, Senior Investment Manager for IDG Ventures Ltd., and senior faculty members from IIM Bangalore, Prof. Rupa Chanda and Prof. Vivek Moorthy, discussed the build up to the crisis and how it has affected various business sectors in India. Most of the panelists echoed the belief that the worst might still be around the corner but expressed optimism about India's ability to tide over the crisis.

---
* Contributed by -
Student Media Cell,
Indian Institute of Management, Bangalore.