NITIE, Mumbai Organizes 'B-Cube', an Exclusive Event for MBA Aspirants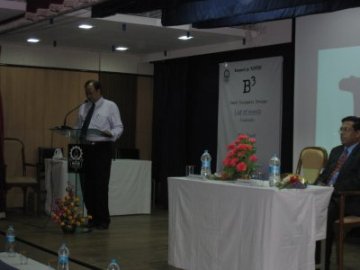 Prof. A. K. Pundir, Associate Dean Placements, NITIE Interacting with Students During B-Cube
Soon after, the event kick started with MarQue - The Marketing Workshop, which was taken up by Dr. Ranjan Chaudhuri, an eminent NITIE faculty in Marketing. The presentation gave the aspirants an insight into the exciting world of marketing. Dr. T. Prasad, a renowned HR faculty at NITIE gave the students an insight about the world of Human Resource Management and entrepreneurship skills. FinNomenal - The Finance Workshop, was conducted by Prof. M. Venkateshwarulu, a veteran and respected faculty at NITIE, and was truly a riveting and stimulating session. OpsCure - The Operations Workshop, was conducted by Mr. Vamsi Krishna Karry, Logistics Manager - Modern Retail at Procter & Gamble, and an outstanding NITIE alumnus. It was an enthralling session covering almost all the aspects of Supply Chain Management and Operations in a nut shell. Dr. Shirish Sangle, an expert in Environmental Management, showed the students the true benefits of building their career in Environmental Management. The pre-lunch session was aptly concluded by the thought-provoking session by Prof. P. K. Biswas on IT and Systems Management.
The post-lunch session saw the battle of brains for Quest-Chenier, a battle of wits, a zero sum quest for facts. In short, the aspirants participated in the Business Quiz competition. The session not only ensured that their grey as well as white matter was tested to the core, but also enabled them win Cash Prizes and Certificates.

---
Contributed by -
Vishal Verma,
Student Media Cell - IMpress,
NITIE Business School, Mumbai.