Indian Institute of Management, Calcutta
Rise in Average Salary & Diversity of Profiles Highlights Placements at IIM Calcutta
Pay Packages
With the economy on its recovery path, the salaries were expected to go up and they have. The average salary has seen a 20% increase over last year with the average domestic compensation excluding yearend bonuses rising to 15.32 lakhs this year as compared to 12.7 lakhs last year,

a clear indication that the economic situation has improved significantly since 2009. The highest package offered (domestic) increased to INR 75 lakhs compared to INR 60 lakhs last year. The average international package exclusive of bonus is USD 123,450. Last year, it was USD 86,785.

While the increase in the pay-packages has been heartening, a unique aspect of this year's placement process was that the roles offered to students were very diverse. Students could pick the exact roles they were interested in, given the wide array of choices, thus moving out of the process happily with their ideal jobs in hand. This, we consider to be the most important aspect of this year's placement process, and our greatest success.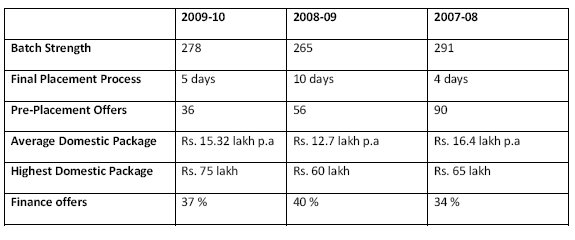 Comparison with the Previous Years





---------------------------------------



Click here to Debate on latest trends of Placements 2010 as the saga unfolds itself.

Read complete story of Placement 2009 as it happened along with analysis and comparison across the B-schools and segment-wise analysis.